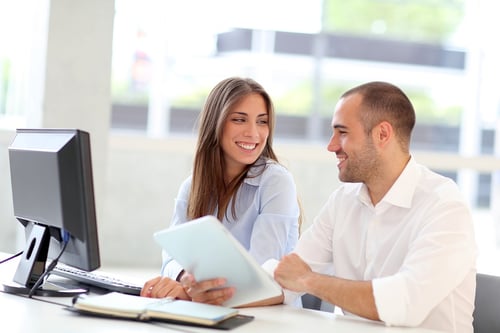 What if I told you that successful Sales Enablement came down to just one thing? One tiny, two-syllable word that can reshape the whole way your business engages with new and existing customers?
Content. That's it.
In late 2015 Forbes Insights released The Power of Enablement report, a comprehensive guide to boosting sales productivity. Through vigorous research authors found that the world's most successful organisations rely on well crafted and strategic content to drive their sales.
"Content facilitates effective sales conversations. Top-performing sales organisations know the key role it plays in sales productivity," the report states. "Creating the right content and ensuring that sales reps can find it when they need it is a significant challenge for some companies. Getting that activity right is the secret to success."
Sounds easy, right? Well not quite, as founder and CEO of Brainshark Joe Gustafson explains.
"One big problem for sales reps is that they spend much too much time looking for content," he says "And they aren't even sure if they are finding the right information or the most up-to-date content. Worse yet, they may create their own content, which can erode the brand or even make commitments the company can't keep."
Dan Smoot, executive vice president of market readiness at Salesforce.com goes further, highlighting the importance of content in connecting with customers.
"Content has got to be used to build credibility and open up a rich and meaningful customer conversation," he says. "If you are heavily competing, you want to be aggressive. But you fail if you are just talking about yourself. Customers want you to understand them."
So what kind of content is your sales team looking for?
Forbes Insights asked sales teams from around the world what type of content would be most beneficial to them. The results shed some fascinating light on the needs of our sales teams:
Create content that is relevant to the needs of the customers we call on: 67%
Help communicate a value story in sales meetings: 63%
Proactively recommend content in specific selling situations: 63%
Improve access to content by salespeople: 59%
Create content that helps differentiate our company: 59%
Make it easier to find content relevant to a client or sales situation: 59%
Create content that reinforces our sales training in day-to-day calling: 59%
Better align content with the customer journey and sales process: 56%
Write content that better supports sales and service interactions: 56%
Over the past few weeks we have examined the emergence of Sales Enablement and its relationship to Inbound Marketing. This week I will be sharing the different kinds of content that will help drive sales enablement in your business.
1. Persona Documents
Regular readers know that I'm a card-carrying fan of buyer personas. But I'm not alone.
Amanda Maksymiw of Lattice says that buyer personas are also particularly helpful for sales reps.
"In order to fully convey the value of your company's offerings, you have to fully understand your personas – specifically your buyers and users," she says. "Your sales team should understand your buyers' top pains, challenges, motivations and responsibilities. Persona related content can come in many formats, from presentations to one-pagers."
It's time to take the next step in understanding your customers by developing buyer personas. Your marketing will thrive and your sales team will thank you for it.
2. Product Pages
It seems obvious, but often a company's last thought for content is the product's very own webpage, where content is often left to stagnate. HubSpot's Pamela Vaughan says that up-to-date product pages are essential to a high performing sales team.
"One asset that product marketers typically manage is a website's product pages," she says. "These pages should highlight your various product and service offerings and provide the information that prospects are looking for to conduct product research and understand what you sell. Depending on what that is, these pages may be organised in a number of ways."
3. Product Blog Content
By now, we're all well aware of the benefits of blogging. Attracting customers, thought-leadership and SEO are just some of the advantages. But Vaughan says blogs can also play an important part in the announcement of new products and updates, and can even be a stand-alone platform that both customers and sales reps can access.
"You could also use this blog to announce company news, making it a combined company product and news blog. Use this blog to communicate significant product, service, and feature updates -- as well as noteworthy company news -- and house it within the product section of your website," she says.
4. Case Studies and Success Stories
Case studies are punchy, real-life demonstrations of your product in action and how it helped your customer achieve their goals. When presented correctly, case studies offer powerful content for a sales team looking to persuade prospective customers.
"Case studies that highlight the success of your current customers are an extremely powerful product marketing tool," says Vaughan. "In fact, they're one of the items on our list that could be classified as both product marketing and sales enablement content. They add a lot of credibility to your product marketing and prove the true value of your products/services."
"In your case study content, be sure to demonstrate the customer's challenge, highlight how your solution addressed that challenge, and feature the outcome/results (quantitative and/or qualitative)."
Other Articles You May Find Helpful: