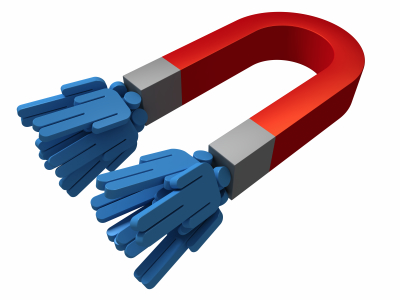 Inbound Marketing is a methodology based on:
Get Found
Convert (Leads and Customers)
Analyze
The word "Inbound" means to pull in, or attract. Inbound Marketing means to pull prospects into your marketing funnel and to nurture them and get them sales ready. Traditional marketing tactics like; cold calling, poorly targeted advertising and direct mail are expensive, and yield a poor return ROI.
In simple terms, inbound marketing is about your prospects finding YOU when they're looking! And its about building trust and credibility with your target audience. Good ole fashioned business values, leveraging today's technology. That's not to say this is easy, nothing worthwhile ever is - but like all things you put in the effort and you'll see the rewards.
SMBs all across the US that have adopted the inbound marketing methodology, have not only survived the toughest climate the US has seen since the great depression, but also thrived. So there is no reason Inbound marketing won't work for Australian SMBs too.
The GFC means Australian SMBs need to get smarter with their marketing. In order to survive, SMBs need to learn better marketing tactics so they can:
reduce their marketing spend
reduce their cost per lead and acquisition
increase their ROI
increase leads and customers
grow their business
The Inbound Marketing Company was founded by myself Stacie Chalmers in 2009, an Aussie who has been living in the US for the past 6 years. As of June 2012 Im returning to Sydney and teaming up with my Aussie husband Andrew to bring Inbound Marketing to Australian SMBs. We'll be running seminars and webinars once we get settled so please subscribe to our blog to receive the updates. We're also on Linked In, Twitter and Facebook all the links are on the side of this blog - we'd love to meet you so please join us. If you have any questions about how Inbound Marketing can help you grow your business please use the comment section below, post on our Facebook timeline or send an email: stacie[at]theinboundmarketingcompany[dot]com.
Over the years Ive published several articles on Inbound Marketing, and to make your research easy Ive compiled a list of them all below.
Click on the links to learn how Inbound Marketing will help your business grow.
Here's a quick guide to starting an Inbound Marketing Plan
How To Build Trust and Authority Into Your Inbound Marketing Plan
Learn The Inbound Marketing Approach To Meaningful Engagement
How To Build Reach Inbound Marketing Style For Lead Generation
Inbound Marketing + Blogging for Lead Generation: Why, How, What To Do
Download Inbound Marketing Content Calendar For Blogging
Buyer Persona + Inbound Marketing = Success: Learn why and how here
Inbound marketers buy, traditional marketers rent says @brianhalligan
How To Do Inbound Marketing On A Tight Budget
Solutions For Measuring Inbound Marketing and ROI
5 Inbound Marketing Tips To Generate Leads From Your Website