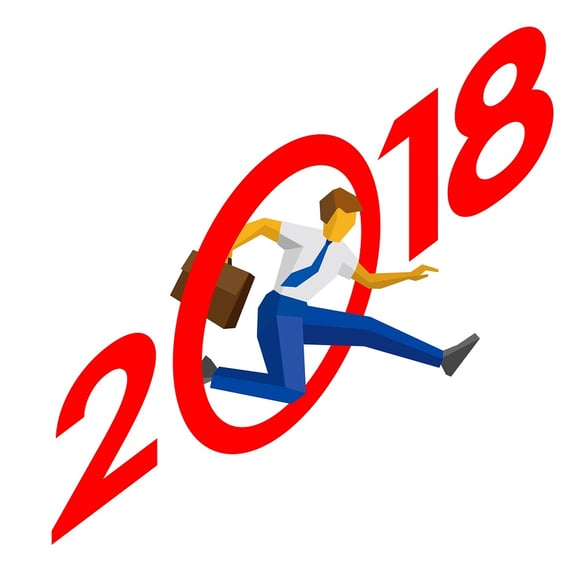 When it comes to the marketing industry, nothing is ever set in stone. What worked yesterday might not work tomorrow and if you want to stay ahead of the game, you need to be on your toes and up to date with the latest marketing methods at all time. You know what I'm talking about – one minute you're thinking you've cracked the Facebook algorithm and the next minute you're ripping your hair out wondering why on earth your posts aren't getting any views. So let's look at the top marketing methods everyone will be using in 2018. According to Smart Insights, content marketing will remain one of the top marketing methods, which is no surprise. Following on is 'big data'. This essentially means marketers are going to be using insights and predictive analytics to influence which techniques to use. The next thing we will see a lot of is Artificial Intelligence and machine learning. So as we look forward to the possibilities of 2018, here's a look at the top trends that will boost your marketing strategy this year.
Video Content and Live Streaming
As 2018 rolls around, you can expect to see a continued shift towards creative video content, with a focus on live streaming. Just this year alone, video streaming accounted for a significant 75% of all internet traffic and with stats like that, there's little chance things will slow down when it comes to video content. Data also shows that people watch live streams around 3x longer than a pre-recorded video. You can be certain that the major social media platforms are going to start adding more interactive features to their networks while also improving feed quality in 2018.
The Rise of Artificial Intelligence
Along with big data and machine learning, Artificial Intelligence is going to be huge when it comes to marketing in 2018. Internet users will begin seeing highly-personalised content, which has been automated based on their activity online. You might not see too many marketers adopting an AI strategy just yet, as AI can be quite expensive and requires certain skills that are hard to come by. However, for businesses who are willing to take the risk and pay the big upfront investment, they are likely to reap the rewards. Recent statistics from the Salesforce State of Marketing Report showed that high-performing marketing teams are more than 2x as likely to use Artificial Intelligence in their campaigns compared to under-performing marketing teams.
Say Hello to Chat Bots
You know those little chat bots that pop up asking if you need any help after you've been trawling a website for a certain period of time? Well, those little things are going to be a valuable communication asset in 2018 that will not only help drive your lead conversions but also improve customer support. Chat bots are a powerful marketing tool as they can help drive customer engagement and enable quicker conversions by answering questions and offering suggestions. It is estimated by Gartner that 85% of interactions will be with chat bots by the year 2020.
Goodbye Digital Influencers and Welcome to Micro-Influencers
Did you know that micro-influencers (people with an audience size between 10,000 and 100,000) are 4x more likely to receive a comment on a post than macro-influencers (people with over 10 million followers)? That's why in 2018, more marketers will be turning to these micro-influencers as they are more likely to post about niche topics and have a more loyal following.
Growth Driven Tactics
Also known as growth hacking, this particular marketing method focuses on increasing business revenue. At its core, growth hacking is all about scale. Growth hacking refers to finding new, out-of-the-box strategies for acquiring new clients in a short space of time.
Search Engine Optimisation is one of the best growth hacking tactics, along with email marketing, content marketing, A/B testing and analytics and paid acquisition (Google AdWords, Facebook Ads).
Geofencing Technology
When was the last time you left home without your smartphone? For most people, wherever they go, so does their mobile device. Marketers will be taking advantage of this in 2018 by using geofencing technology to collect information about their target customers as they enter, leave or remain in certain areas – also known as geofences. Basically, geofences are specific areas that prompt mobile notifications when someone is active in a certain area. During this time, marketers can send promo messages offering discounts to users, for example, geofencing is a great way to engage with customers who are constantly on the go in a more circumstantial way. This method does however only work for businesses with apps, and only if a customer has downloaded the app and has allowed your app to track their location.
Short, Engaging 'Explainer' Videos
Following on from the video content trend, 'explainer' videos are also on the rise in 2018. Explainer videos are short, easy to digest videos that explain something about your business' product or service. These videos are popular because they are highly visual and help viewers understand what's explained in the video in only a few sentences. In fact, people are 4x more likely to watch a video than to read text on a page.
I have no doubt that 2018 is going to be an exciting year for new and innovative ways to reach consumers and develop greater brand awareness. As technology continues to rapidly evolve, it's clear marketing teams are going to need to do plenty of experimenting, adapting and investing in order to keep up!
Other Articles You May Find Helpful:
There are no related posts