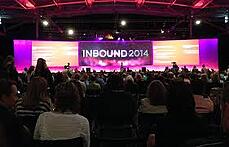 September 9th, I joined 10,000+ other marketing and business professionals at the annual Inbound conference in Boston.
In his keynote, Brian Halligan CEO for Hubspot spoke about why sales needed to change. The way people buy today is different, the shift of power has moved from the sales person to the buyer. Watch the full keynote here.
This is really nothing new. I've been talking about this for years. This has been the reason I've changed the way I do marketing and help others to implement better, more effective marketing practices. But whilst this shift in buyer behavior may have caused many marketers to change, it wasn't changing the way many sales people were handling their leads, or how the company as a whole was engaging with customers, including customer service.
The internet has changed the way people buy and it has given every individual a voice.
Companies that adopt the "inbound" philosophy understand that every person they connect with is valuable. People will have an experience with your company whether good, bad or indifferent. And these people have an online network and a voice – what do you want them sharing about your company? By taking the time to understand who these people are and what's important to them, your company can create a positive experience that they will share with their network.
These people may buy soon, later or never at all. But it's important to ensure they have a positive experience with your company. This experience shouldn't stop once they become a customer. These people are your biggest advocates. Continue to market to them in a way that helps them be successful. Give them a reason to refer your business, share your content and support your company - not your competition.
Consider these facts:
Blogging works: Marketers who blog are 13x more like to drive positive ROI.
Inbound budgets are up: More than 5 times as many marketers reported higher budgets than those who claimed budgets had been cut. 74% of B2B marketers said their budget is either the same or increased.
More marketers are practicing inbound: The number of marketers who state they practice inbound rose from 60% last year to 85% this year. While the percentage of marketers who concede they don't run inbound was nearly halved to 13%.
Other departments are starting to practice inbound: 25% of sales, and 10% of service have begun to employ inbound practices in their department.
Inbound drives more leads than outbound. More than twice as many respondents cited inbound (45%) as their primary source of leads versus outbound (22%). Over the past four years outbound as a primary lead source has dropped from 34% to 22%.
Inbound can reduce cost per lead. Inbound leads are considerably less expensive than outbound leads, regardless of company size. For companies with fewer than 25 employees inbound leads are 63% less expensive than outbound. For companies with 51-200 employees inbound leads are 68% less expensive than outbound.
Source: State of Inbound 2014
These statistics highlight the benefits of having an inbound approach to marketing, no wonder other departments like sales and service are also adopting an inbound methodology.
Contrary to what many may believe about Inbound - it's not SEO, social media or content marketing. Inbound is about having a customer centric attitude. So I agree with Brian Halligan inbound needs to be across the entire company not just marketing, otherwise your leads and customers are going to have a different experience with your company when moving from marketing, to sales to service.
What type of experience do you want your prospects, leads and customers to have when engaging with your company? How is dealing with your company better than your competitors?
Need help going inbound?
I'd be happy to talk to you about how we can help you adopt the inbound philosophy and grow your business. To get started fill out the form below.
Other Articles You May Find Helpful:
There are no related posts