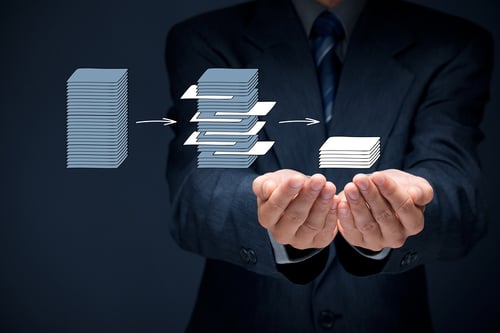 Fact: Big Data is Big Business. Conservative estimates say that in the space of two days, humans are now capable of producing the same amount of information that was generated from the dawn of time until 2003.
That's an incredible volume of data created at astonishing speeds, all of which can be used to paint a very detailed picture about our customers. Yet the age of Big Data should be considered a double edged sword. It's true that we have more information about our customers than ever before. But with the amount of data being captured and stored by industry doubling every 1.2 years, we can easily be sucked into a data-driven black hole if we don't use that information to our benefit. While Big Data is undoubtedly helpful, modern marketers are all facing one big question: How can we use all that information to improve our marketing?
Here's how you can start:
Identify The Right Audiences
Gone are the days when customers were sorted into fairly large and arbitrary groups. The emergence of Big Data allows marketers to pinpoint consumer behaviour and market to more precise groups of people. Some experts even believe that the day when we can market to individuals isn't too far away.
This new trend is backed by data. In a report conducted for Forbes Insights, Big Data experts Rocket Fuel revealed just how powerful data has become in successfully segmenting existing and prospective customers, which helps marketers tailor their messages and tactics.
"Companies that use big data tend to shine in identifying, reaching and engaging the right audience," the report states.
"Eight in 10 (79%) marketers and advertisers who use big data more than 50% of the time were able to pick out the right audience in all or almost all of their media, compared with just 35% of those who used it less than 50% of the time."
"And seven in 10 agency executives (71%) agreed or strongly agreed that they understand who was engaging with their product; 64% of marketers said the same."
Create Strategically Focused And Tailored Content
We all know what it's like to slave over a campaign and incessantly tweak a message, only to produce negligible results.
Big Data could circumvent this loss of resources and productivity by revealing exactly what your audiences wanted to hear. Big Data allows marketers to unlock the motivations behind customer behaviours, attitudes and habits, meaning that content and messages can be tailored perfectly to suit each audience.
"By creating a universal store of customer attributes and behaviours, big data technologies enable analysts and data scientists to produce much more fine-grained models of customers' future activities," according to Forrester, which produced the compelling Marketing's Big Leap Forward report, analysing the link between Big Data and marketing.
"These rules and models enable firms to produce much more tailored promotions and offers, improving overall performance and reducing contact fatigue, opt-outs, and disengagement."
Measure Multiple Channels
Modern marketing campaigns can be best described as a kaleidoscope of channels and platforms. Blogs, websites, advertising, social media and even traditional PR can all legitimately form part of a single campaign.
Yet successfully measuring the success of each channel is crucial to knowing which platforms work, and which ones are wasting your time. This is where Big Data is key, offering quantifiable evidence into which of your tools are yielding the best results.
Forbes Insights says that this crucial insight helps marketers deliver effective and streamlined campaigns.
"Companies that used big data more than 50% of the time were far more likely to see benefits than the under 50% group. Nearly three in four companies in the former group could measure the effects of multichannel campaigns versus about one in two companies in the less than 50% category," it says.
"They were far more likely to be able to integrate initiatives smoothly across channels, optimise customer response and deliver options to consumers than the group that used big data less than 50% of the time."
Increase Customer Retention And Loyalty
A 2014 report from Manta and BIA Kelsey revealed that more than half of the annual revenue for 61 percent of small business owners comes from repeat buyers.
The report also found that 80 percent of business owners invest more time, effort and resources into customer retention than acquisition. This shift in focus indicates the powerful role customer retention plays in business success.
Big Data will be the key to future customer retention, offering a wealth of customer information that helps marketers better understand their customers, and devise loyalty programs that encourage them to keep coming back for more.
"Customer data gives businesses, especially smaller ones, a great opportunity to reward customers with loyalty programs that pay attention to their specific purchase preferences," Tyler Roye, CEO and co-founder of e-gift card retailer eGifter told Business News Daily.
"This can include products purchased, channels viewed and purchased through, and even currencies used to purchase."
"Drilling down in those specific areas allows businesses to offer the most-enticing deals and programs for customers, not only making them more likely to spend with the business, but also making them feel valued as individuals."
Supercharge Your Strategy And Achieve Your Goals
What if I told you there was a way to almost guarantee that you could achieve your marketing and business goals?
By now the answer should be no secret: Big Data. Marketers worldwide are realising that the information and insights offered by Big Data are helping them achieve their goals by offering a better and more strategic platform from which to launch their campaigns.
Of the 211 senior marketers surveyed by Forbes Insights, the vast majority are exceeding and achieving the goals.
"Of the organisations that used big data at least 50% of the time, three in five (60%) said that they had exceeded their goals," the report says.
"At the same time, of the companies that used big data less than 50% of the time, just 33% said that they had exceeded their goals."
"The more frequently that companies felt that they were making sufficient use of data, the more likely they exceeded their goals. More than nine in 10 companies (92%) who had always or frequently made sufficient use of data said that they had met or exceeded their goals, while just 5% who said that they were making sufficient use of data said that they were falling short of their goals."
From demonstrating ROI, increasing sales and building customer retention and loyalty, Big Data will be a driving force in the future of marketing.
Other Articles You May Find Helpful: