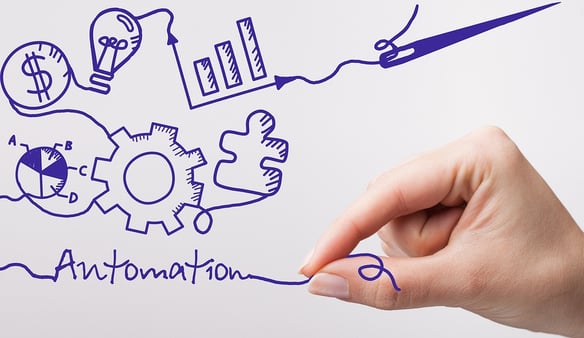 We are almost half way through 2017 and by now you've no doubt heard about 'marketing automation', right? If this is your first time hearing about it, check out our blog post here for more info. Essentially, marketing automation is about optimising your marketing campaigns. From optimising time to optimising the focus of your campaign, marketing automation is a highly useful tool that goes beyond automating repetitive tasks.
So, if you're yet to jump on the marketing automation bandwagon, we've put together this short list of reasons you should be all over marketing automation by now. We're 99% sure after you've read this list of 8 reasons, you're going to be a marketing automation convert!
1. It improves your marketing processes
One of the greatest features of marketing automation is you can easily streamline and also improve your marketing processes. If you and your marketing team have yet to visualise and map the content for your customer journey, using a marketing automation systems essentially forces you to start. Using marketing automation requires you to create your customer journey and develop a marketing strategy that aligns with what your customers are looking for, when they're looking for it. Automating touch points with your buyers based on the customer journey is an essential part of any marketing campaign because it boosts the customer experience with your brand, ensuring when they connect with you online the information is timely and relevant.
2. You can target customers across multiple channels
Another incredibly powerful benefit of marketing automation is that it allows you to target potential customers in a unique and personalised way across multiple channels. Depending on what tools you're using, some will enable you to monitor and respond via email, social media or phone call.
3. It increases your up-sell and cross-sell opportunities
We're only human, so it's safe to assume there have been a few times your business has left a whole lot of potential revenue on the table by not remembering to up-sell and cross-sell. With marketing automation, you can take the human aspect out of up-selling and cross-selling by building a series of automated rules. If done right, overtime this kind of marketing can quite significantly increase your customer lifetime value.
4. You can target customers better than ever before
Customers don't want to be overtly sold to. They want to feel like they're special and that you're offering them a unique and personalised solution to their challenge or need. That's why marketing automation is so useful – never before have marketers had the ability to reach 1,000 different leads with 1,000 different messages tailored to a prospect's individual needs in a fully-automated way.
5. It saves you time on managing social media campaigns
How much of your day do you spend managing social media campaigns? We're going to guess that a fair part of your day is dedicated to watching and monitoring. Most marketing automation tools provide you with the ability to manage all of your social media accounts from one dashboard, allowing you to post from multiple accounts in one swift go. Though this has been possible for years thanks to tools like Hootsuite, it's incredibly powerful to now have it connected to the same system you use to monitor your leads and customers.
6. It helps to take the speculation out of lead scoring
Choose a marketing automation tool that enables you to set up lead scoring. This is a set of rules that automatically attributes a positive or negative value based on a lead's actions, inactions and personal information. This amazing feature really benefits your sales team, as well as your marketing efforts, because sales aren't wasting their time on unqualified leads. The lead scoring will help them prioritise leads that meet the sales qualified lead threshold or those with the highest lead score.
7. It decreases the time it takes to build campaigns
There are never enough hours in the day, especially when you're managing several lead gen campaigns. Most marketing automation systems out there have an easy drag and drop interface, which allows you to create workflows with no technical expertise needed. Since you don't have to rely on the availability of your web designer or graphic designer to create these campaigns, you are able to execute marketing campaigns much more quickly.
8. You can schedule campaigns ahead of time
While the ability to schedule campaigns ahead of time has been around since the very beginning of media marketing, the benefit of doing it from a marketing automation system is that it is very simple to schedule different workflows and messages to different sections of your contacts. For example, instead of sending one message to your entire database, you can personalise each message using tokens that pull individual data from the contact record.
There you have it – 8 fantastic reasons to be jumping on the marketing automation bandwagon as soon as possible. There are of course countless other reasons but we think these are some of the most noteworthy and if we're being honest, very exciting reasons!
Other Articles You May Find Helpful: