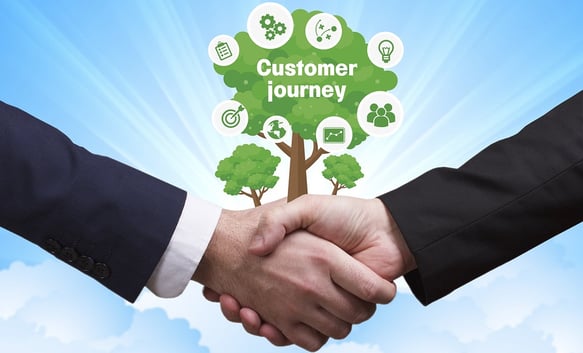 Successful marketers know the key to getting results in the digital age is in connecting with their buyers at each stage of the customer journey. The State of Marketing 2016 study conducted by Salesforce revealed 88% of top marketers say a customer journey strategy is critical to the success of their overall marketing. The study also revealed that the top concern for high performing marketing teams this year is keeping pace with their customers.
However, this focus on the customer experience shouldn't just be for the top performers, but all marketers. So how do you develop a customer journey strategy and keep up with your customers if you're a small business with limited time and budget?
To start, it's important you understand the customer journey, and what expectations your buyers have at each touch point with your company. As a business owner or marketer, it is vital that you understand your buyers' persona as much as possible. This insight will help you to develop a marketing strategy, that ensures you meet customers' needs and provide a positive experience with your company, no matter where they are in the customer journey. If you're a small business with a limited budget this is even more important as you don't have the funds to waste on marketing tactics that don't work. Let's look at how you do this.
Develop a buyer persona.
While it might seem like a straightforward idea, knowing your buyer isn't always that easy. You need to understand what motivates people to buy, know their purchasing criteria and how it connects with their individual goals. Buyer personas are the process of uncovering the attitudes and behaviours of your buyers, knowing their pain points, the nature of their jobs and the solutions they need to work better. Research shows that 67% of this process is now done digitally. Learn more about developing buyer personas here.
Understand the customer journey?
The customer journey is broken down into three main stages:
Awareness: This is when someone first discovers your business.
Consideration: During this stage, the customer is researching and considering your product or service, and comparing it to other solutions.
Decision: At this point, the customer decides whether or not to buy something and, if so, from whom they will buy.
To develop an effective customer journey, it's essential to provide your customers with the information they're looking for at each stage of the buyer's journey. How? Through content mapping.
OK … so what is content mapping?
Content mapping is a marketing approach that is based on user intent. It helps you bring into line your content and its distribution with the needs of your buyers at each stage of the customer journey. Content mapping is an incredible means for ensuring the overall efficiency and success of your marketing strategy. It's all about producing content that is appropriate and valuable to your audience – and making sure its delivered at the right time. It also helps you:
create content that offers a solution to your customer's needs
craft relevant content that will convert more people into leads
nurture your leads at each stage of the customer journey to close more leads into happy customers
Content mapping also helps you build a relationship with your buyers, even before they become customers, because you are making the buying process easier for them – you are providing the information they are looking for, when they are looking for it.
How a buyer persona can help you with content mapping
Once you have developed your buyer persona you will have an understanding of what information and experience they're looking for at each stage of the buyer's journey. This insight will help you plan a targeted marketing strategy and create the right kind of content for your buyers.
Social media can be a good strategy for helping people find your company but it's important you develop unique tactics for each social media site as people have different reasons for being on each site and will respond to different content and offers.
Let's look at the different stages of the customer journey and how you can develop a strategy that will meet the needs of your buyers and help you to achieve your marketing and business goals.
Awareness: At this stage people will likely engage with your company for the first time. This is where they've identified a problem or pain point and are looking for a solution. They may just be looking for some free online help in the way of a blog article or free guide or they may be looking to buy a product or service. At this stage people, generally, are not sales ready – they're educating themselves on the options they have, to solve their need. So it's important your marketing at this stage is about building a rapport, trust and credibility. This is best done by offering helpful, valuable content that is free to download and read (or watch).
Consideration: At this stage people are weighing up their different options, it could be comparing direct competitors' price, product, delivery or it could be comparing completely different solutions. For example, people may compare using a travel agent v's booking their holiday online. Often companies only look to their direct competitors when doing competitor analysis, and they miss what other solutions their buyers are considering and how they might be a better solution. You'll uncover this when you develop your buyer's persona. Take some time to understand what people are experiencing when they are evaluating your company, your direct competition and other solutions. What is important to them? Price, quality, talking to someone, easy purchase online – are you meeting these needs better than any other solution?
If they have a negative experience with your company in the first two stages then they probably won't make it to the next stage, the decision to buy stage.
Decision Once you have developed your buyer personas you'll also understand what is important to them when making a purchasing decision. What information and experience they're looking for to help them decide on which is the right solution for them. They need to trust your company and feel confident you can deliver. Your marketing strategy at this stage should include: client reviews, testimonies and quotes. It might also include a free consultation, a follow up phone call, comparison sheets or a friendly and easy to use ecommerce site. And finally, how to buy from you should be clear and easy – don't leave them confused on what to do next or to have to hunt around your website to find the "buy here" button or phone number.
The takeaway from all of this?
The better you understand your buyer's persona and the customer journey, the more relevant and positive experience people will have with your company. And if they don't end up buying from you, their positive experience may lead to recommending you onto someone who does end up buying from you.
Other Articles You May Find Helpful: