Are you overwhelmed, or even confused about how to best market your business in the ever changing digital world? With the internet and social media changing the way people buy, organisations need to change the way they market if they're serious about building a profitable business that will stand the test of time. The purpose of this article is to educate business owners and marketers how to develop a marketing plan that will help them build a profitable business for the future. So here are my 7 steps to developing a marketing blueprint for your organisation.
1. Get your flywheel spinning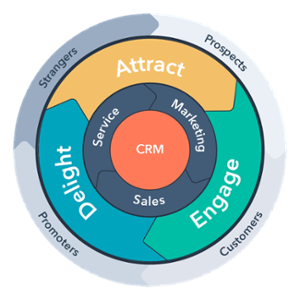 Once upon a time, the "funnel" was the way organisations viewed the marketing and sales process. The thing about the funnel, however, is that it views customers as an after-thought in the marketing and sales process, and not the driving force they are. That's where the concept of the flywheel comes in. In the old funnel, customers are an outcome. With the flywheel, it's all about using the momentum of your happy customers to drive word of mouth referrals and repeat sales, to grow your business. The flywheel is a business model covering marketing (attract), sales (engage) and delight (customer service). So, how do you get your flywheel to start spinning? You need to look at every touch point a potential customer has with your brand and identify ways you can improve their experience from both an internal perspective to make it more efficient and external to ensure they find the information they're looking for - and then watch your flywheel begin to spin.
2. Create a memorable experience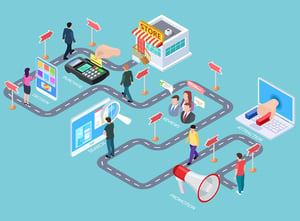 There are two types of experiences that will get people talking about your brand: if it's really good, or really bad. Of course, you don't want people to be talking about your company for the wrong reasons, so you need to make sure everyone who engages with your brand has a positive experience. The important thing for business owners to remember is that it doesn't just matter if they buy from you or not, at the end of the day, it's what they think about your brand. Why? Because everyone has a voice. Everyone has an influence. And, good or bad, consumers love to voice their opinion, so you need to make sure when they're talking about your business, it's for all the right reasons. So, how do you begin creating memorable experiences? Map out every touch point people have with your brand, both online and offline. Then look at how you can make sure everyone who experiences your brand has a remarkable experience they will want to share with their network to drive more business your way.
3. Understand your buyer's journey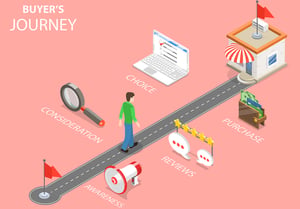 The buyer's journey "is the process buyers go through to become aware of, evaluate, and purchase a new product or service". The buyer's journey follows a three-step process: awareness, consideration and decision. Let's take a look at what each step entails, and then how that might play out in a specific example.
The Awareness Stage
During the awareness stage, people become aware of a problem or need. At this early stage people generally aren't searching for a solution they are understanding their problem and will respond to content that will educate them on better understanding their need, and the different solution options available.
Example: Everyday you need to water your lawns and gardens but you don't have the time. The pain point is having the time to stand outside and hose the lawn every day. You're starting to identify a problem and you need a solution that will water your lawns and gardens (within the water restriction guidelines of course) without it taking up too much of your time.
The Consideration Stage
The next stage of the buyer's journey is the consideration stage. During this stage, people have clearly defined their problem or need and are now beginning to evaluate the different solutions that will solve their problem. At this point, buyers are evaluating different options, not necessarily brand or company specific solutions.
Example: You talk to family and friends, and do some online research on the different ways to automatically water your lawns and gardens. You learn, to install an automatic watering system you could buy the components from Bunnings and do it yourself or you could pay for a contractor to do it for you.
The Decision Stage
The final stage of the buyer's journey is the decision stage. Once buyers have reached the decision stage, they have carried out enough research, have evaluated the different solutions to their problem and are finally ready to choose a company to solve their challenge.
At this stage buyers are evaluating specific companies. At this stage buyers want to know more about your organisation and why they should choose you over a competitor. It may be quality of work, reviews, experience or price.
Example: After doing some research you've decided the best option is to pay a contractor to install an automatic watering system for you because you don't have the know-how or time to do it. So now you begin researching different contractors to find the right one. You put a post on Facebook to see if anyone can recommend a good quality and affordable irrigation contractor, and do a Google search for a local contractor. You find a helpful article called: '10 things to know before engaging an irrigation contractor.'
4. Get the Content Right!
Now that you understand the importance of the buyer's journey, you need to create educational and helpful content for each stage of the journey. Content comes in all forms: web pages, blog articles, videos, images, social media posts, presentations, eBooks, webinars and more. Most importantly, you need to align the content with the buyer's journey. What questions might consumers have at each stage? What information are they looking for? How can you help them succeed?
Your content should add value, educate and entertain. Always remember to think about who your audience is, where they are in the buying process, and what information or experience they are looking for.
5. Build your community before you focus on generating leads or sales
People don't buy from brands they don't know or trust. That's why if you want marketing success, you first need to build your community and encourage engagement. A good way to start is by sharing your 'why'. Why do you do what you do? This type of content allows people to connect to the people behind the brand and better understand your values. People innately connect to a sense of purpose and 'why', which will help you build your community and a sense of trust. Your community should also be a space where people are empowered to succeed to help one another. So, what kind of content or information should you be sharing with your community? I like to use the 80/20 rule: spend 80% of your time educating and helping people and 20% promoting sales offers.
6. Integrate and automate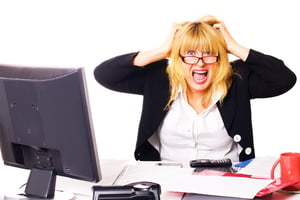 Do you use a lot of different technology to run your business? Do you use one piece of tech for your CRM, another for your email, and another for your social media? Does it all make you want to pull your hair out? I see countless business owners export their contact information from a CRM, import it into their email marketing tool (which is separate from their website and web analytics) and try to connect the dots. It's near impossible. By doing it this way, there is no one truth on the customer journey. The CRM doesn't let you know which emails people are clicking on, or which web pages they visit. How can you follow where your customers are in the journey this way? And how can you make better marketing or sales decisions if you can't connect the dots between marketing activity and the customer journey? There is an easier way: integrate and automate. By having all of your data and creative assets in one software system and automating as much as possible, you will save time and have a more holistic and truthful picture of your buyers.
7. Understand your analytics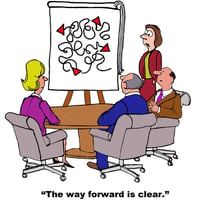 Many people don't even look at their analytics because they're either too busy or not sure what they should even be looking at, or what to do with this information. My best advice? Keep it simple. You don't have to know everything. You just have to know and understand the information that is important for your marketing objectives. The best way to do this is by knowing what question you need an answer for. For example, you may want to know:
Which subject line in the emails got the best open rate?
Which posts on social media get the most engagement?
How many people click on sales offers in our emails?
By identifying the questions you need answers to first will help you pull out the insights you need from your analytics.
I hope you've found this blueprint for marketing success useful. If you need help implementing any of these steps or want to better understand anything I've written about in this article, book in a call today
Other Articles You May Find Helpful: