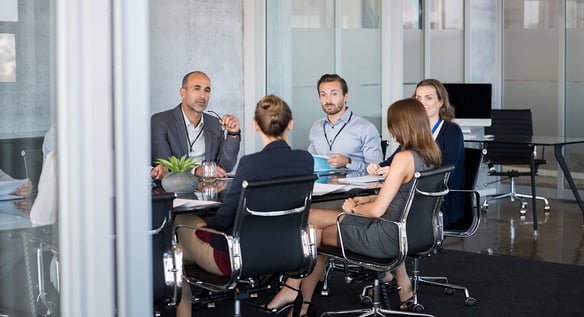 Currently, there is a disconnect between the way consumers research and buy, and the way businesses market and sell. Statistics show that 60-80% of modern buyers will jump online and do their own research long before they are actually ready to speak to a sales rep. This means that marketing now plays a bigger role than ever in the sales process. If you want any chance of selling to the modern buyer, it's vital you start aligning your marketing and sales teams. In fact, research from the Aberdeen Group shows that strong alignment between sales and marketing teams achieve an average of 20% growth in annual revenue. Attempting to align your sales and marketing teams for the first time can be confusing and overwhelming, that's why I wrote this guide. In this article I will share with you why it's important to align your sales and marketing team, and share some simple steps to make it happen.
Bringing Your Marketing and Sales into Alignment ­– Why It's Important
The role of marketing is to generate leads. The role of sales is to close the leads. Sounds simple enough, right? However, this process doesn't always work as planned because marketing complain that sales doesn't follow up with the leads, and sales complain about the poor quality of the leads to begin with. Mistrust and miscommunication between sales and marketing dampens the results of both teams, ultimately hindering your business' growth. The solution? Align your marketing and sales teams. Research from The Aberdeen Group found aligned sales and marketing teams produce 400% higher annual growth than teams that are unaligned. Here are some more compelling statistics from HubSpot that just might convince you of the value of aligning your marketing and sales teams:
misaligned sales and marketing teams cost B2B companies 10% of revenue or more per year.
businesses who implement effective alignment practices generate 208% more revenue from their marketing efforts.
when sales and marketing teams are aligned, businesses receive a 36% higher customer retention rate and 38% higher sales win rate.
What Does It Mean? Defining the Strategy Together
Traditionally, sales and marketing teams have worked independently of each other, although they're both working towards the same end goal, revenue. In the past, there hasn't been a coordinated effort to work together on both the lead generation and closing of leads, which means they weren't understanding each other and how they can better contribute to the overall business objectives.
Today, successful businesses are now breaking down the barriers to better align sales and marketing efforts and improve results. They are doing this with a Service Level Agreement (SLA) between marketing and sales. This agreement will help to keep both teams accountable to the bigger business goal and provides each an opportunity to have input into each other's goals and processes.
The agreement should detail marketing's goals and expectations (like definition of a lead and number of leads), and sales' goals and expectations (like the follow up process, number of leads to close and revenue targets). Both the marketing and sales teams should use the SLA as a commitment to support each other to achieve the business goals. In fact, research suggests that 81% of marketers whose businesses have an SLA have an effective marketing strategy.
How to Bring Your Marketing and Sales Team into Alignment
Bringing your sales and marketing team into alignment is actually easier than you might think. Here are some simple yet effective tips that will help align your sales and marketing teams and ultimately help you achieve your revenue goals.
Align goals and create a joint plan
It is vital that marketing and sales are consistently working towards the same end goal, and one of the most effective ways to do this is by creating a joint plan on how this will be achieved. When both teams create a plan together, they will be vested in its outcome and success. The plan should outline the business goals, this is the end goal that marketing and sales are working together to achieve. This may include things like: revenue, number of clients, average spend per client, size of client, or churn rate. Then break it down to individual goals for sales and marketing. For sales this may include things like; number of new clients, revenue per client and lead/customer close rate as well as the process sales will follow to close the leads. For marketing this may include a definition of a lead and a qualified lead, number of leads and qualified leads and the process they will take to generate and nurture these leads.
Hold regular strategy and collaboration meetings
After marketing and sales have created the plan, together, it is important that they regularly return to it and adjust it as needed. It's also a time to make key strategic decisions, and review what's been happening overall, review whether goals were achieved or not and what changes if needed are required to ensure goals are achieved.
Measuring your results
Transparent and open data is vital for successful sales and marketing alignment. You will need the right software like marketing automation and/or a CRM so you can set up a dashboard that includes relevant data for each team, that can be easily shared with each other. Here are two types of software we use and recommend:
Marketing software – marketing software is an effective way to manage your marketing activities, it should also have a customisable dashboard and reporting feature so everyone can easily see how marketing is performing compared to their goals.
Customer Relationship Management system (CRM) – your CRM system should also include a customisable dashboard and visibility into the pipeline so everyone can see how sales is performing compared to their goals.
I hope this has article has been informative and has helped you understand why you need to be aligning your sales and marketing team. It can take some time but once you start harnessing the power of aligning your marketing and sales, you'll wonder why you didn't do it sooner.
Other Articles You May Find Helpful: