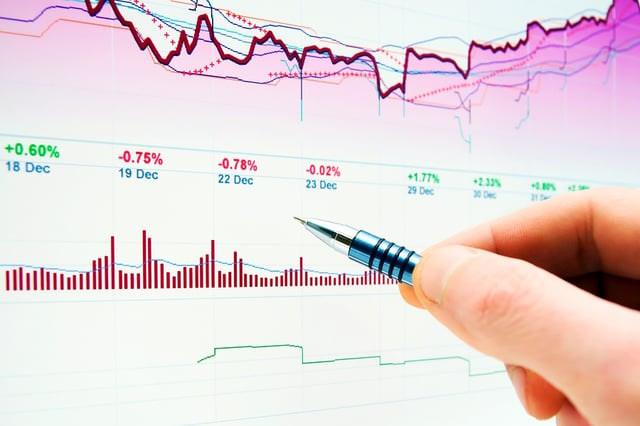 I read a sobering statistic this week. It initially shocked me, but as the surprise subsided it was replaced by a gentle acknowledgement that it's a sign of the times:
More data has been created in the past two years than in the entire history of the human race.
Yikes, that's a lot of data. And it should come as a blessing for small businesses and marketers who can take that information and use it to create better and more targeted strategies to attract customers.
Instead, they're faced with information overload and finding a key new insight amongst all that data can be like finding a needle in a digital haystack.
Nevertheless, we are trying our best. According to the Wall Street Journal, marketers are set to supersede the IT departments as the biggest spender on software. The aim? To make sense of all that data. But being able to make a distinction between data and useful data is a key first step.
"CMOs need to determine how to make the transition from big data to useful data. Often, marketing teams get so overwhelmed with the sheer volume of data they receive from CRMs, databases, market research and other sources that they end up losing the forest for the trees," says Entrepreneur and Forbes contributor John Rampton.
"The key step for marketers is to figure out which metrics are essential to their brand, and which are merely interesting factoids. That means determining which metrics are most closely correlated with key brand objectives such as sales growth, market share and customer retention."
When it comes to marketing data analysis, you should work smarter, not harder. That's especially true for businesses combating smaller resources and tighter budgets. If you're drowning in the sea of Big Data, here are four tools that could serve as your lifeboat:
Google Analytics
It's trusted worldwide and is one of the most accessible marketing analysis tools available today. But it's also incredibly powerful, using Google's free web traffic monitoring tool to reveal insights into the performance of your website and the habits of people who visit.
"With Google Analytics, you can extract long-term data to reveal trends and other valuable information, so you can make wise, data-driven decisions," says Sara Angeles of Business News Daily. By tracking and analysing visitor behaviour — such as where traffic is coming from, how audiences engage and how long visitors stay on a website — you can make better decisions when striving to meet your website's or online store's goals."
HubSpot Analytics
HubSpot's Analytics tool provides you with the metrics you need to understand the performance of your most vital marketing assets - your website, landing pages, forms, emails, calls-to-action, and more. It records events continuously, covering the complete customer lifecycle from first interaction to most recent conversion.
You can also use HubSpot's Attribution Reports to pinpoint the pieces of content and the sources that contributed to conversions at each stage of your marketing funnel. Meanwhile, the insightful Sources Report identifies the sources that bring in the most visits, contacts, and customers over time. Drill into each source to see the contacts and companies it is generating.
MixPanel
Bringing together the complex world of analytics can seem daunting, which is why a single system with accessible interface makes life much easier for small businesses. Mixpanel is one such platform. Instead of measuring pageviews, it helps you analyse the actions people take in your application, whether it's uploading a picture, playing a video, or sharing a post.
It's a system favoured by marketing expert Jean Spencer from Entrepreneur Magazine.
"A proper marketing operation ready to track revenue impact contains four elements: a solid marketing automation software, a robust CRM system, a content marketing production space and a web presence tracking tool like Mixpanel," she says. "Mixpanel tracks comprehensive user behaviour to give companies a detailed look into what users are doing on web and mobile properties, or how much time they are spending within an application."
"The data is also extremely powerful for marketers. By using multifactor analysis, for instance, you could compare retention rates for users based on the marketing campaign that 'brought them in' to see which ones resulted in the most valuable long-term customers."
People Power
While we all search for the best new online tools and analytical silver bullet, perhaps one of our most powerful data analysis tools is in the kitchen right now, making themselves a coffee: our own employees.
Rampton says that gathering data about people is pointless if you leave it to machines to make sense of it.
"Data is a way to understand people and it requires an investment in your own human capital to understand," he says.
"A recent Adobe survey of marketing professionals found that many companies lack the analytical skills to properly make use of their data. Machines can gather data, but it takes people with analytical and creative minds to turn all those numbers into actionable insights."
"That's why employment growth for statisticians is expected to significantly outpace the overall labor market over the next decade. In addition to investing in their own people, marketers need to think of data as a way to understand their customers as people. The end goal of data analytics is to be able to respond to individual needs."
Other Articles You May Find Helpful: