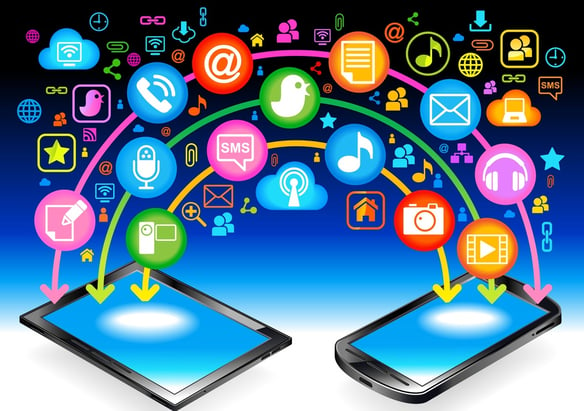 As we know, the sales game has changed. Today's customers are now 70% of the way through the buying process before they're willing to talk to a salesperson. This reality has banished old sales tactics to the dustbin of history, hopefully never to be seen again.
In response, small businesses are now exploring new and innovative tactics to sell their products and services to align with the preferences of the modern buyer. Social selling is emerging as an effective strategy for businesses large and small, around the globe.
What Is Social Selling?
Social selling is a long-term strategy that leverages social media to connect with your buyers and customers.
"Social selling is the process of researching, connecting, and interacting with prospects and customers on social media networks – notably Twitter and LinkedIn," says HubSpot's Emma Brudner. "Through commenting on, liking, and sharing prospects' and customers' posts, salespeople create relationships with buyers and boost their credibility by taking an interest in what they're interested in."
The concept is simple enough, and according to Forbes, it is so powerful that it's gaining increasing traction across marketing and sales:
LinkedIn found that 90% of top sales professionals are using social selling tools, compared with 71% of overall sales.
44% of employees of medium-sized companies (100-999 employees) use CRM tools versus only 23% of small companies (under 100 employees) and 27% of enterprises (1K+ employees).
Millennials are 33% more likely to use sales intelligence tools.
If your old sales tactics aren't working then it's time to try something more social, here's how to become a social selling superstar:
First Things First: Nail Your Profiles
First impressions count, your personal social media profiles are key to the social selling process. If your Twitter profile pic is a boozy selfie, it's time to change it to something more professional (or create a completely separate online identity altogether).
For a Twitter account, improvements are relatively simple. This can include writing a compelling positioning statement, linking to your company's Twitter account, listing your LinkedIn Profile and including hashtags that your buyers are likely to follow.
Rewriting a LinkedIn profile will take a little more time and effort but it is worth the investment. Make sure your profile doesn't just become an online resume, instead use it to reiterate your value proposition, and showcase your results and achievements.
It's also important to seek recommendations from colleagues and existing clients who can endorse your skill set.
Check out HubSpot's guide for writing an eye-catching LinkedIn profile.
Find Your Prospects
With 425 million active monthly users on Twitter and LinkedIn alone, social media is teeming with potential business leads and new customers. All you have to do is spend a little time finding them.
This doesn't necessarily have to be a laborious task, either. By joining groups, using hashtags commonly used by your buyers and sharing content with key influencers, you will develop new business connections.
Social media has levelled the marketing and sales playing field says Aubrey Andrus from Sprout Social.
"You can follow anyone you want, from a CEO to a celebrity, and they don't have to accept your request as they do on LinkedIn or Facebook. They might even follow you back," she says.
Ask for Introductions
In 1929, Hungarian author Frigyes Karinthy first proposed the concept of 'six degrees of separation'. The idea? That through our existing friends groups, networks and contacts we're only ever six steps away from being able to connect with anyone on the planet.
His theory hasn't necessarily been proven, but the concept is a powerful one, especially in the age of social media. In our current environment we are able to establish powerful international networks with people we haven't met face-to-face.
Once you've developed your list of prospects, see if there is anyone in your existing network already connected to them. If so, politely ask for an introduction. Complete this process a few times and who knows? You might be closer to Tim Ferriss or Elon Musk than you ever thought possible.
Share, Post and Contribute Value
If an effective social selling strategy were a pot plant, then adding value is the water that makes it grow. Create great content, get online and amplify it to your prospective customers.
With the groundwork done, now is the time to get active. Social media is a platform for you to share your expertise and your content with the world.
But more than that, it's also an avenue for you to offer solutions to common problems in your buyer's industry, comment on news and emerging trends and position yourself as an expert who understands your buyer's industry and pain points. Furthermore, use industry-relevant hashtags, start conversations and follow influencers so you're always up-to-date with the latest developments.
Looking for innovative content ideas? Start here.
Other Articles You May Find Helpful: