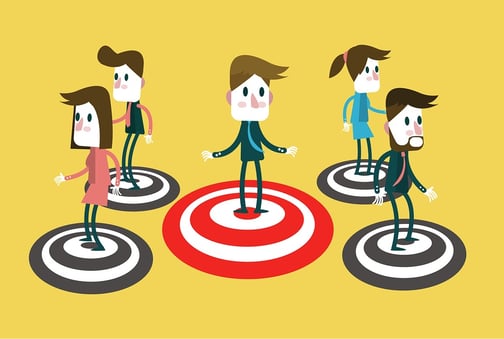 If you're struggling to find your target audience on social media, you're not alone. According to the 2017 Social Media Industry Report, locating ideal customers and prospects is a big concern for marketers. In fact, a significant 87% of marketers are seeking guidance on how to sift through social media networks to connect with their buyers. The thing is, if you want to find your target audience on social media, there are a few crucial things you need to do. In this article, I'm going to offer you a few simple tips for finding and connecting with your target audience on social media.
Identify Your Ideal Customer
The first thing you need to do is understand who buys from you. You can't expect to find your target audience on social media if you don't know who they are! Think about the following: Are your buyers typically male or female? How old are they? What are their interests? Are they local to where you live or do they live all over the world? Once you have a more detailed picture who your buyers are, you can utilise this information to begin finding them on social media.
What is Your Audience Size?
Once you have an idea of what your target audience looks like, you can use features like Facebook Ads Manager to estimate how large your audience is. For example, if you are looking to reach men in Sydney who are interested in sports supplements, you might found out that 50,000 people on Facebook match that audience. Estimating your audience size through Facebook Ads Manager is great business information because if you find your audience size is too small, you can adjust your offering to expand your audience. On the other hand, if your audience size is too big, you can then think about targeting a smaller niche to start. Safe to say, not every single person in Australia is active on Facebook, although a good 15 million are. Either way, Facebook is a good place to begin when determining your audience size.
Start a Conversation with Your Existing Customers
No matter how long you've been running your business, talking to your current customers is a great way to gain insights into where your ideal customer hangs out online and what they do with their time. If you want to optimise your social media campaigns and spend your advertisement money wisely, it is important to know where your audience hangs out. Some good questions to ask include: What social media sites do you use? What websites do you regularly visit? Do you read blogs – which ones? Who do you follow online? The answer to these questions will give you a pretty clear idea of where you will begin finding your target audience.
Find Your Customers and Start Connecting
Did you know that you can upload your email database to most social media platform to find your customers? For example, with Facebook Ads Manager, you can use the emails in your database to create a custom audience. Once you've created a custom audience, you can ask Facebook to generate a 'lookalike audience'. Lookalike audiences are people that are similar to your current audience. Basically, Facebook does all the hard work for you by putting your business in front of potentially thousands of people that look like your current audience.
Tailor Content to Your Target Audience
If you're unsure of the type of content your audience likes, start by looking at your competitors and how they use social media. What tactics are they using to drive engagement? Do they have any shortcomings you can use to your advantage? What kind of content are they posting? For a quick and easy way to see what kind of content is being shared the most across social media, you can also use tools like Buzzsumo. Buzzsumo is a powerful tool that allows you to analyse what content performs best for any topic or competitor. The important thing to remember when it comes to engaging with your target audience through social media is that you should never just promote your own content. Mix it up by sharing some of your content, with posts from thought leaders and industry experts. Social media is all about offering your customers educational and informative resources to develop trust and instill confidence.
There's a huge audience of soon-to-be fans and customers just waiting out there for you to arrive. Start with the above tips and you'll be well on your way to finding and connecting with your target audience on social media in no time.
Other Articles You May Find Helpful: