A new survey has revealed that Australian small businesses are still grappling with the best ways to market their business and generate new leads.
The results, published in B&T Magazine are based on research conducted by marketing education company Basic Bananas, showed that 43 per cent of small businesses admitted that they would like to know how to use marketing to generate new leads for their business, over and above mastering social media (12 per cent), online and digital marketing (9 per cent) and SEO (2 per cent).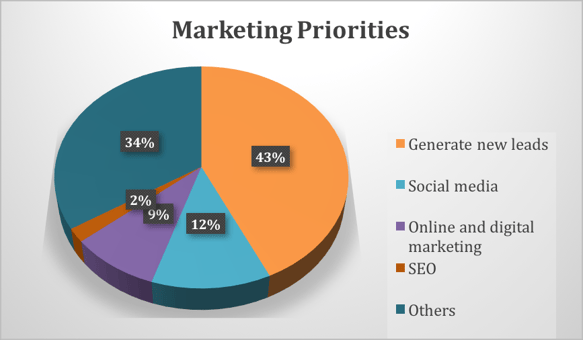 Furthermore, 38 per cent of small business owners are most concerned with attracting clients and marketing their business correctly.
It seems that for all the tools and tactics available in today's online environment, small businesses are craving a more strategic marketing direction.
Thankfully, it's never too late to learn how to develop an effective marketing strategy specifically designed to close leads, boost sales and make your business more effective and efficient.
Here are 6 steps to creating a marketing strategy to help your small business get results.
1. Know Your Buyers
Devising a marketing strategy before you've identified your customers and audience is putting the figurative cart before the horse. When it comes to setting up an effective and efficient marketing strategy, it pays to do the groundwork in understanding who will buy your product or service.
"The first phase is perhaps the most important, because it's going to give you the information you need to fuel the rest of your strategy," says Forbes marketing expert Jayson DeMers. "With the wrong information, or without enough information, you won't be able to draft an effective strategy."
"Don't just assume who your target demographics are, or how they behave. Be as objective as possible by conducting market research. What types of content are your typical buyers into? What are their needs? Where are they going to find new information? This will help you determine how best to target them in your choice of topics and mediums."
Identifying your buyer personas will give you the answers to these questions. Buyer Personas reveal the deeper motivations of your buyers, unlocking ways you can use various publishing platforms that truly resonate with them. By understanding what your customers are trying to achieve, you can align your marketing efforts to help them reach their goals and overcome their challenges.
2.
Publish Content For Different Stages Of The Buyer's Journey
The needs of a person who has just realised they need a new car will be different to a person who has already started comparing the Toyota Camry with the Ford Falcon. Marketing the same content to all prospective customers is asking to be ignored.
"To hone in on the conflicting needs of your audience, you have to consider the awareness, consideration, and decision stages of the marketing funnel," says Forbes' John Hall. "Prospects in the process of vetting potential solutions to a problem need vastly different information than those just identifying a need."
"By creating content with the buyer's journey in mind, you will simplify the writing process, establish new relationships, and help deepen those connections over time."
But what kind of content should you create? From blogs to webinars, when it comes to creating great content, the sky is the limit. Learn about the content consumption habits of modern customers here.
3. Build A Powerful Social Network
Join industry groups, and contribute to discussions, publish posts and freely share your expertise. This will help you cultivate a powerful network of peers and potential collaborators invaluable to connecting with influencers and customers online.
"Every niche or industry has certain influencers who command respect and enjoy a large following. They're perceived as the ultimate industry experts and their opinion holds a lot of weight," says ProBlogger's Jawad Khan. "Your target, as a local business, should be to get in the good books of these influencers. Even a few words of endorsement from influential figures in your industry can skyrocket your reputation, credibility and sales figures."
"There are different ways of getting on their radar. For local bricks and mortar businesses, the best thing is to associate with the influencers in real world. But to do that, you'd first need to engage with them in the online world."
Here are some tips for building a powerful social network:
Invest in your profile - get it up-to-date and ensure it's an accurate reflection of your skills and expertise
Start local – people enjoy making local connections so start small by targeting businesses in your local area
Follow each platform's rules and etiquette – no one appreciates unsolicited connection requests or pushy tactics. Be respectful and patient when reaching out to people via social media
Join the conversation – post, share, comment and retweet on influencer posts and make sure you reference them so they can see you
Help people – offer your expertise to help solve people's problems and answer their questions. With time and patience, goodwill is returned.
4. Add Value With Email Marketing
Contrary to what you may believe, email marketing remains a trusted marketing avenue amongst consumers. This is because people can now organise their emails and sort through them at their own leisure. Consumers are familiar with email and it's one forum where they feel a greater sense of control. Research from Experian states that every $1 invested in email marketing can create up to $44.25 in return. So Email Marketing should still be a part of your inbound marketing strategy.
Firstly, under no circumstances should you buy an email list and spam the subscribers. Those shady days of marketing are long gone and companies found guilty of such practices can face severe penalties.
Instead marketers need to build an opt-in list of subscribers who have volunteered their email address because they know that helpful and useful content is going to be delivered to them. Once a lead has reached that stage, it becomes the marketer's challenge is to ensure you use email marketing to provide relevant content.
5. Measure and Monitor Constantly – And Make Changes Accordingly
"Measurement is what makes marketing a science, rather than a superstition," says DeMers.
Metrics are essential to making informed content marketing decisions, and ensuring that you're investing your time, money and resources into platforms that are reaching your ideal customers. Metrics let you know if your blog is a lead conversion black hole, or if your YouTube channel has the highest conversion rate at the lowest customer acquisition cost, making it far more worthy of your time. Learn how to harness big data and improve your marketing here.
Other Articles You May Find Helpful: