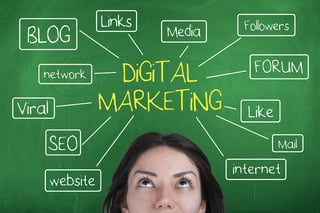 When it comes to lead generation, digital marketing offers a myriad of cost effective tools that help you reach and establish new audiences, share and amplify your content and drive prospective customers to your website.
But which ones deserve your time and energy? In this post we explore five ways you can leverage digital marketing to achieve your lead goals.
1. Website Home Page
As the old saying goes, you never get a second chance to make a first impression. If that's true, it means your website home page is the most important page on your website. It's your virtual handshake and can be make-or-break when it comes to lead generation.
Although people will find your website in many different ways (via blog articles, landing pages or other website pages) the majority will visit the home page first. For this reason it's important to place offers with calls to action (CTA) on your home page. Offers that will convert website visitors into leads eg: download this ebook, sign up for this webinar, start your free trial etc.
Your home page is also your first and most important opportunity to articulate your value proposition. This is your competitive advantage. Your unique selling point. The reason why a website visitor should buy from you and not a competitor. It's not a slogan or a mission statement, but a clear statement about how your products or services benefit the customer and make their lives better and easier. Checkout HubSpot's guidelines for writing a great value proposition for your homepage here.
If you can use your home page to clearly articulate why a visitor should buy from you instead of a competitor, you may increase your chances of converting them into a lead, at the very least you've enticed them to stay and look around.
2. Blogging
A blog is a great opportunity for you to position yourself as a thought-leader in your industry and build a readership of potential customers. But blogs are also useful in boosting your SEO rankings and helping you create fresh and compelling content for your website.
A blog can be used to create just about any kind of content that will drive people to your website. articles, opinion pieces, industry news, quizzes, top ten lists, reviews and recommendations, how-to guides and interviews with industry experts are just some of the ways businesses commonly use their blog to drive traffic to their website.
A blog can also be a lead generating machine. Imagine if a prospective buyer relied on your blog to get the information they needed to perform better at work, or complete a complex task. Already, they are beginning to trust your company and your brand. When they are ready to buy they're more likely to reach out to your company because they trust you have the expertise to provide the solution for which they are looking.
Using your blog to convert people into leads is as simple as offering a relevant CTA at the bottom of your post, aligned to the overall topic and content of your article. It may be a webinar or ebook to learn more about the topic you're writing.
3. Solution Pages
After the homepage, your solution page (also known as 'product' or 'service' pages) is amongst the most popular on your website. A successful solutions page will explain how your products or services will meet the needs of your buyers.
This is your chance to emphasise the benefits of doing business with you, rather than the benefits of individual services. Solution pages are also the ideal place to publish testimonials from happy clients - a powerful trust indicator that you can deliver what you promise.
A great solutions page also finishes with a call to action - a specific instruction to tell people what to do next. A typical solutions page CTA might be for them to contact you, but it could also be a direction to download a helpful guide, redirect them to your blog or sales page, or sign up for a free trial.
4. Social Media
The number of worldwide social media users is expected to hit 2.5 billion in 2018. But far from being a platform for selfies and status updates, social media has become a powerful lead generation tool. In fact, 77% of B2C marketers now say that they have acquired a customer through Facebook and 20% have closed a deal using Twitter.
Social media's power comes from its ability to connect you to new markets in an affordable and cost-effective way. Publishing helpful, valuable, thoughtful (and sometimes even amusing) content that is shareable across social media can potentially put your brand before the eyes of thousands of new customers.
Recent research shows that social media is a major influencer in a powerful new force: peer-to-peer marketing. HubSpot research has shown that 90% of people turn to friends for brand recommendations and are 71% more likely to buy a product or service if someone referred it to them. With more people connecting and conversing on social media, platforms such as Facebook, Twitter and LinkedIn have emerged as a major factor in how people make their purchasing decisions.
5. Email Marketing
Contrary to what you may believe, email marketing remains a trusted marketing avenue amongst consumers. This can be attributed to the way people can now organise their emails and sort through them at their own leisure. Consumers are familiar with email and it's one forum where they feel a greater sense of control. So much so that research from Experian states that for every $1 invested in email marketing it can create up to $44.25 in return. It's for this reason Email Marketing still needs to form part of your digital marketing strategy.

Firstly, under no circumstances should you buy an email list and spam the subscribers. Those shady days of digital marketing are long gone and companies found guilty of such practices can face severe penalties.

Instead marketers need to build an opt-in list of subscribers who have volunteered their email address because they know that helpful and useful content is going to be delivered to them. Once a lead has reached that stage, it becomes the marketer's challenge is to ensure you use email marketing to provide relevant content. The best way to achieve this is to segment your lists and customise offers to each list, based on the information they provided when signing up. It's important not to send the same information to the entire database, but to provide helpful content to the individual segments of your leads. It's also important not to over-use email or send too much, otherwise people tune out, or unsubscribe altogether.

When developing email marketing it's important to keep content, design and copywriting front of mind. Here's a few tips to help your email marketing hit the mark:
Subject line:

The most crucial part of your email. Research shows you have only seconds to capture the attention of your reader, and emails are often competing against dozens of others in a typical inbox. Your subject line has to be both engaging and informative. Something that captures they eye and entices them to open the email to find out more.

Keep it short:

Leads don't want to open your email and be greeted with an essay. Keep your content short and convey the key information in the simplest way possible.

Imagery:

Research suggests that the brain comprehends images 60,000 times faster than text. Images reinforce the message of your copy and help your audience understand they key message.

Make it shareable:

Make it easy for the reader to share your email with their audience by including social media share links. This will increase your chances of people sharing your content and reaching a wider audience.

Call to Action:

What is the purpose of your email? To nurture leads along the buying process. For example if they just downloaded an ebook what is something else you can offer that will help them? Is it a webinar or case study to learn?
The basis for successfull digital marketing is of course publishing content your audience loves. Download this guide to learn more.
Other Articles You May Find Helpful: