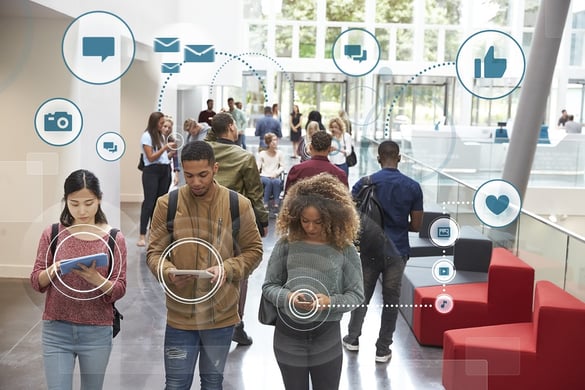 If you own a small business and are not harnessing the marketing advantages of social media, now is the time to start. You might think there are more important things in your business to focus on, yet social media should definitely be a top priority. No matter what business you're in, chances are your customers are online.
According to the 2017 Social Media Marketing Industry Report published by Social Media Examiner, the top main benefits of social media marketing are increasing exposure and increasing traffic. A significant 88% of marketers suggested that their social media efforts have generated more exposure for their businesses. Increasing traffic was the second major benefit, with 78% reporting positive results.
If the idea of using social media is a little bit overwhelming and you don't know where to start – don't worry! In this article we're going to be talking about 6 highly effective ways to use social media to market your business.
1. Get visual
Did you know that photos on Facebook get more engagement? Even adding images to LinkedIn posts will give you a higher engagement rate. Furthermore, it's not a coincidence that three of the newer social networks (Pinterest, Instagram and Snapchat) are based solely on images. If you're only posting written updates – that's a start! But if you want to really engage with your followers, it's time you start leveraging the visual aspect of social media. Graphics, GIFs, memes and videos – if it looks good and is relevant to your brand or business, get sharing! But don't just share for the sake of sharing. Pay specific attention to ensuring it's relevant – otherwise the visual will just seem out of place and will confuse followers. If someone who has never heard of your brand visits your social page, will they know what you do based on the visuals you share?
2. Customise content for the platform
Every social media platform has a different purpose, so make sure you're tapping into their individual features. This includes paying attention to the headline, image and description of whatever it is you're sharing. Every other marketer and business on social media is competing to catch the everyday user's eye, so the more optimised your post is for the social media platform you're using, the more effective your post will be.
For example, if you're posting to Instagram, your first priority will be finding a stand-out image. Your caption is also important, but the image will be what first grabs a user's attention. Or if you're posting to Twitter, having a humorous or cleverly written post will be your main priority. Adding a picture is also effective, but it's the words you want to focus on.
3. Ask your followers questions
While social media is a great way to promote your services or products, it is also important you don't just spam followers with content that is all about 'you'. Try and make some of the content about 'them' and drive your followers to communicate with you. All you need to do is ask your followers questions or ask them to provide feedback. Social media was made for people, not for businesses. So think about how you can tap into the human connection aspect of social media when marketing your business. Asking questions is great for when you want to grab the attention of your followers as it fosters a closer connection between them and your brand.
4. Find the right time to share
While this may be stating the obvious, so many content marketers often overlook the simple things such as sharing at the right time. If you want maximum engagement with what you're sharing (of course you do!) then your post needs to be reaching as many social media users as possible. How do you do that? By posting when your followers are most active. By using the analytics which are built into most social media platforms (you can also use third party social media tools such as Hubspot), you can see things like the time and day when your followers are most likely to engage with your content, and what content they are most likely to engage with. From this data you can create a posting schedule to make sure you are posting at the right time each day. It's important to remember that different social media platforms have different peak times for posting. When you first try to figure out the best time to post, it may take a bit of trial and error but you'll eventually find the right time to post for optimal engagement.
5. Advertise
If you're yet to try advertising on social media, there's no time like the present. When you advertise on social media, you are promoting your content and business to a micro-targeted audience of your choice. From age to location and interests, you can find your ideal client and advertise right to them. This will guarantee you visibility from a relevant audience, which is more likely to provide you with a new fan, rather than targeting someone who isn't interested in what you sell or offer at all.
6.

Join the conversation
Have you joined the conversation yet? Searching relevant hashtags or joining communities on social media is a highly effective way to market your business. While you can't jump into the conversation with "buy from me!", what you can do is raise awareness of your brand. When joining conversations, you're mostly there to add insight and value. It's about the community, not about you. Of course, you can share and promote yourself every once in a while, but primarily you should be sharing content that interests the people in the communities so that when you do have something to promote, they will be more likely to engage and be interested in what you have to say.
There you have it – 6 effective ways you can use social media to market your business. Give them a go! Social media is often based on trial and error, but once you find the right combination, the rewards far outweigh the time you spent trying to make it work!
Other Articles You May Find Helpful: