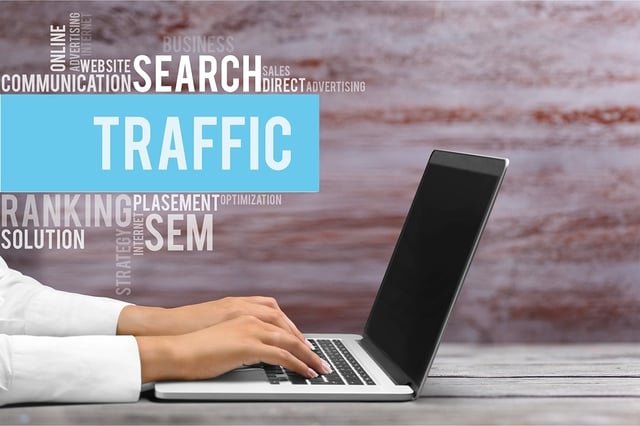 "Today it's not about 'get the traffic' – it's about 'get the targeted and relevant traffic." – Adam Audette
Anyone who is in charge of marketing knows this sentiment well. In today's climate, simply getting people to visit your website or 'Like' your Facebook post isn't enough. It's essential that those people take more meaningful action to become a qualified lead and with the right nurturing, a paying customer.
It's seems easier said than done. We know that potential customers today are far more sophisticated and selective in the information they choose to consume. You could be forgiven for thinking that reaching them in a saturated and competitive market would take some kind of Herculean effort.
Yet it is possible. Consistently creating great content, amplifying it through social media and implementing some simple features on your company website will go a long way towards converting casual visitors into customers. And with real commitment, you can even transform them into long-term brand ambassadors.
Here are 6 ways you can maximise your marketing efforts to generate more leads and customers:
1. Use Big Data To Identify The Right Audience
Gone are the days when customers were sorted into fairly large and arbitrary groups. The emergence of Big Data allows marketers to pinpoint consumer behaviour and target their marketing to more precise groups of people. Some experts even believe that the day when we can market to individuals isn't too far away.
This new trend is backed by research. In a report conducted for Forbes Insights, Big Data experts Rocket Fuel revealed just how powerful data has become in helping businesses successfully segment existing and prospective customers, which in term allows marketers to precisely tailor their messages and tactics. Learn more about making the most of your data here.
"Companies that use big data tend to shine in identifying, reaching and engaging the right audience," the report states.
"Eight in 10 (79%) marketers and advertisers who use big data more than 50% of the time were able to pick out the right audience in all or almost all of their media, compared with just 35% of those who used it less than 50% of the time."
"And seven in 10 agency executives (71%) agreed or strongly agreed that they understand who was engaging with their product; 64% of marketers said the same."
Need help identifying the right audience? Learn how to write a Buyer Persona
2. Create Great Content
When competitors are only a click away, why should a prospective customer choose your company over another?
The answer: Content. Compelling, relevant and helpful content.
If you understand your buyer correctly, you will accurately understand the information for which they are looking. This will set your business apart from the competition (who are probably talking about themselves), and attract the right people to your organisation.
Content such as; blog posts, free reports, eBooks, whitepapers, infographics and webinars that answer peoples' questions and address their pain points will position you as an industry thought leader. This in turn builds trust in your organisation – a crucial factor when it comes to deciding who to buy from.
Given the importance of content, it's time to start thinking of yourself as a publisher. Your website is your platform. It's not too late to invest in your blog, build an event calendar, integrate your social media platforms and get creative with video and audio content.
Keep in mind that producing quality content is only half of the equation. It's equally as important to let your content be found, by sharing it via social media, and encouraging your networks on Twitter, Facebook, LinkedIn and other channels and platforms to share it.
3. Invest In The Channels Where People Are Most Engaged
A new report from HubSpot offers compelling insight into how modern consumers are engaging with online content.
Over the past two years, the number of people looking for content via search engines has grown by 57%. Thirty-three percent of people are more likely to go directly to a company's website compared to two years ago.
Below is a breakdown by percentage of survey respondents who reported that they consume the following types of marketing content 'thoroughly':
Videos 55%
Social Media Posts 52%
News Articles 49%
Research Content 47%
Online Classes / educational games 37%
Interactive articles or tools 33%
Long form business content 32%
Blogs 29%
This research indicates that online consumers do engage with marketing content, and that businesses can encourage this engagement by aligning their online marketing efforts to the preferences of their audience.
4. Make Them An Offer They Can't Refuse
Clever and well-crafted website offers help people make the transition from visitors to leads.
A website offer is something of value that you are offering your website visitors. These may include free downloads, webinars, vouchers and newsletter subscriptions.
While these offers are usually free, the exchange is mutually-beneficial – visitors who wish to access those assets do so after filling in a form with their contact information. The visitors who are interested enough to take up your offer are transformed from anonymous visitors into known leads.
The most compelling offers are ones that connect with the needs and motivations of your prospective customers. To do this, ask yourself: What are their pain points? What sorts of questions are they asking? What is their purchasing criteria? But more importantly, how can I create content that will solve their problems?
Common offers include:
eBooks
White Papers and industry specific guides
Webinars
eNewsletters and blog subscriptions
Interactive quizzes
Self assessment tools
Free trial periods and discounts
5. Use Landing Pages To Convert
A landing page is a website page that is designed to convert people into leads. A Landing Page meets to basic criteria: it has an online form, and its design and content is geared toward getting a visitor to fill in the form.
Need inspiration? Check out these great Landing Page examples from HubSpot
Here's a quick checklist to help you boost landing page conversions:
Make sure the heading is clear and uses the same words on the call to action button or link they clicked on, which brought them to the page (more on calls to action later).
The intro paragraph should be short, yet compelling. Grab their attention by tapping into a pain point, and end with your offer as a solution. List the benefits of your offer in bullet point form – this makes it easy for people to read.
Finally end with a clear call to action for the page i.e.: 'download the ebook by filling in this form' or 'sign up for the webinar by filling in this form' – whatever your offer is.
5. Create Compelling Call to Action Buttons
A call to action (CTA) motivates people to take a desired action. For the purposes of this section we're talking specifically about CTA buttons that promote your offer and link to a landing page.
The purpose of a CTA button is to drive traffic to your landing. And there are some recommended best practices to help visitors make the virtual leap.
Make sure you place CTA buttons in the right place – pages with many visitors, or relevant pages like product and service pages or blog articles.
Ensure it is compelling, concise, conveys value and the text encourages action. For example: 'Learn how to convert more website visitors with these 3 easy steps. Click Here'.
Use colours that contrast with your webpage to capture and hold attention.
Direct each CTA to its own dedicated landing page that restates the offer.
Other Articles You May Find Helpful: