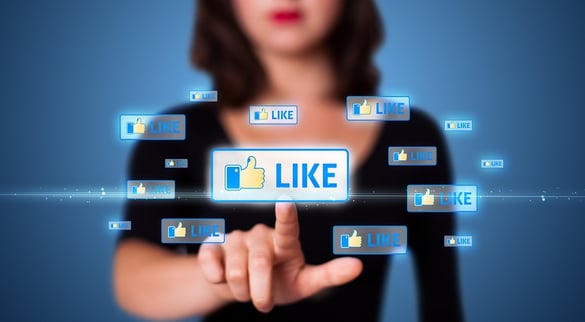 If you want your small business to have an impact on social media, the most important thing you need to do is establish a visible and reliable online presence. You should be posting regularly, taking the time to interact with your customers and audience and using your social media accounts to share interesting content. However, what a lot of businesses forget is that social media marketing isn't just about posting regularly. It's about providing your audience with an opportunity to interact with your business so you can build meaningful and trusting relationships with current and future customers. Also, a credible online presence will greatly help your company be successful in the long run. If you're looking to increase your social media presence, try starting with these 6 simple tips.
1. Fill out your social media profiles
This one might seem obvious but a lot of small businesses don't complete their social media profiles, meaning they're not going to be as effective as they could be. Depending what social platform you're using, you'll have a different opportunity to showcase your products or services.
Here's a quick check for three of the major social media networks:
Facebook: Make sure your business profile's 'About' section is filled out. Make it interesting, engaging and most importantly – have fun with it. The 'About' section is a great way to let current and potential customers know what you and your business are all about, so make sure the content really showcases how great your business is.
Instagram: Instagram is one of the most popular social media platforms and an increasing number of small businesses are jumping on the image sharing app. Again, make sure your Instagram bio really sells who you are and what you do. It's also a good idea to make your profile picture really standout while also highlighting what your business does.
Twitter: Twitter allows its users to write a short and sweet bio, and you only have 160 characters to do so. However, don't look at this as a bad thing. Think about how you can effectively sell your business in as little words as possible. Short, snappy words are what the consumers want.
2. Determine what content is driving the most engagement
Take a look at which of your social media platforms are getting the most engagement. Do your customers mostly interact with you on Facebook? Or do they like to engage with you on Instagram? Do your customers love what you post on Twitter? Start analysing and find out what platforms your customers are regularly on. Then, look over that content as much as possible and pay close attention to posts that receive a lot more or a lot less interaction than others. Try to discern what topics draw your customers in and inspire them to comment or share the post.
3. Use every opportunity to promote your social profiles
Don't be afraid to promote your social media profiles. It's a great way to generate new likes and followers for you to interact with. Here are some places you should be promoting your social media profiles:
Adding social media buttons to your website (here's a guide on how to do it)
Putting links to your profiles at the bottom of your email signature
Adding your social media handles to all printed materials
If you do a guest blog, link to your website and social media profiles with your bio
You don't want potential customers having to search endlessly on Google to find out whether or not your business has a Facebook page, so promote your profiles as much as possible.
4. Stop the hard sell and just provide some real value
Your customers don't want to be bombarded with branded phrases, buzzwords and taglines from your social media pages every time they jump online. The reality is that not many people will engage with you just because they love your brand. Generally, your audience will engage with content that is relatable and shareable – something that will be of use to them. Take a look at your social profiles – are most of your posts about you and your business? If so, stop what you're doing and follow the 80/20 rule. Basically, 80% of your social posts should inform, educate or entertain, while the other 20% should be about promoting your business.
5. Create and share great content
Again, this might seem painfully obvious but it needs to be said: you must commit yourself to creating and sharing the highest quality content you can. If your content is regularly sub-par, you'll quite quickly lose credibility. Written content is important, but don't forget about the visual content. It's one of the most powerful tools your brand can use to engage your audience on social media. Social media users are 44% more likely to engage with content on with pictures, so try make sure you're regularly posting standout visual content.
When it comes to sharing content, many businesses seem to only share their own content because they want to avoid sending traffic to other sites. However, your followers just want amazing content – they don't mind what site it's coming from. By sharing both your content and the content of other brands, you're more likely to get your audience to engage with you, and it's better for your Google ranking too.
6. Be human
Last but certainly not least, don't forget to be human. Possibly one of the biggest mistakes you can make on social media is portraying yourself as a faceless business with no spark or personality. These days, social media users are looking for transparency – they want to get to know you and your business on a personal level. If you can remember to be human at all times, you're much more likely to keep your customers engaged and coming back for more.
Other Articles You May Find Helpful: