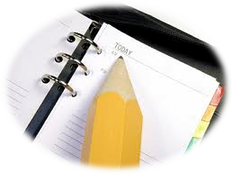 As you start a new year full of motivation and drive determined to achieve your revenue targets 2012, the key to success is to break it down into achievable tasks with an actionable timeline.

The purpose of this blog is to help you determine your goals and tasks for Q1 2012 and get organized with a plan and timeline.
Download the Inbound Marketing 90 Day Planner here – and use the suggestions below to plan out your activities for Q1 2012.

Start by breaking down your annual revenue goals into quarters, and let's tackle the first quarter now!
SETTING GOALS
What are your revenue goals for the first quarter?
Where does your revenue come from? (new clients – growing your reach, revisiting old clients and leads, or existing clients – recurring, up selling)
What are the revenue sources for each "customer" category?
What is the average revenue per customer category?
How many leads = 1 customer?
How many leads do you need?

COMMUNICATION
How will you increase your reach?
How will you communicate with your customers, opportunities and leads?
How will you nurture them?

Here are some ideas to get you thinking…


Email - think about creating a strategic email campaign that is closely aligned with your customers' and leads' needs and values. Offer information that is of interest to them, to help establish your reputation as an industry thought leader.
Blogging – executed correctly, this will help with SEO, lead generation and building reach. Create a list of 12 topics (that's only 1 per week, if you can come up with more then great). Think about what's happening in your industry, the news, hot topics, information that your prospects need to know about you, your product(s) or service. For more tips on blogging I've included some links at the bottom of this article.

LinkedIn

– set up a profile on LinkedIn and make sure you're active in 5 relevant groups. Answer questions and get involved in discussions on a daily basis – set aside 15 minutes per day as a priority.

Lead Generation

– make sure you have something to offer your prospects that will tell them more about your company, product or service to pull them into your marketing funnel. Just one offer for the next 90 days something like a how to guide that will help them with the presale research phase - some ideas are - (10 Questions to ask a web designer to help you find the right one, 10 Step process to finding the right dentist or Don't be ripped off – 10 secrets to finding the right auto technician).

Tips

– write a list of 12 tips that you can Tweet or Email on a weekly basis – offer this as a "newsletter sign up" eg: Sign up for weekly tips on how to stay healthy in 2012.
CTA Buttons - create a button each for the offer and tips and place these buttons on your home page and blog, and any other relevant internal pages.

Create a landing page for the offer and

tip

– see my links below for examples on best practices.

Pricing and specials

– can you offer any discounts, special pricings, limited time specials? These also work well as an offer, maybe this could be your Facebook exclusive – "join our Facebook community to receive exclusive specials".
If you have the budget to run ads on Google Adwords, LinkedIn and Facebook to your target audience – link to the specific landing page not your home page.
I realise this list is missing other effective inbound marketing tactics, this article is intended to highlight the most important tasks and show you how easy it is to plan and stay organized - feel free to add to the Inbound Marketing 90 Day Planner to suit your specific tasks for Q1. Use the 90 Day Planner to help you organize your ideas and stay on track for 2012. It also includes some quick tips on managing social media in under one hour a day.
If you have any questions or comment about planning out your marketing tasks for Q1 please share them in the comments section below.


Here are some additional resources for blogging and landing pages
Inbound Marketing + Blogging For Lead Generation: Why, How, What To Do
17 Ways To Use Your Blog For Inbound Marketing and To Get More Leads
9 Tips To Increase Leads From Your Landing Pages
Other Articles You May Find Helpful: