The humble blog. What started as a hobby in the late 90s has become a complete marketing revolution. From Fortune 500 companies to sole traders, blogging has become one of the most fundamental ways to market to new and existing customers.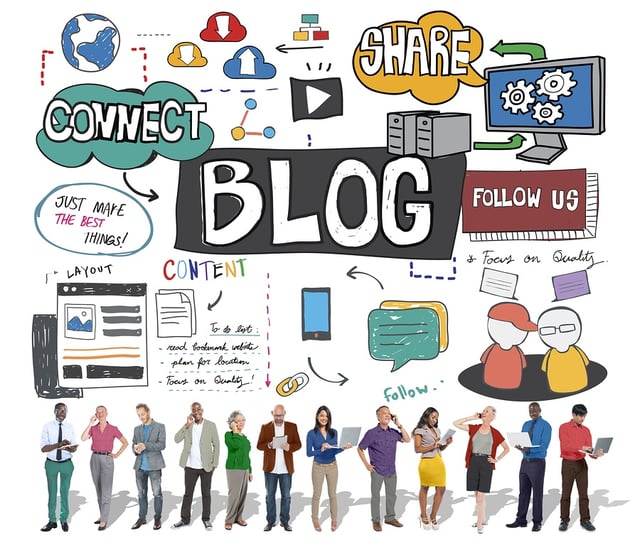 Consider these statistics from HubSpot:
B2B marketers that use blogs receive 67% more leads than those that do not.
Marketers who have prioritised blogging are 13x more likely to enjoy positive ROI.
By 2020, customers will manage 85% of their relationships without talking to a human.
Companies who blog receive 97% more links to their website.
Blogs have been rated as the 5th most trusted source for accurate online information.
Getting people to read you blog is one thing. But converting them into leads and paying customers is another thing altogether. Here's how to help people make the conversion from avid blog readers to qualified business leads and paying customers.
Start With A Clear Purpose In Mind
Blogs are incredibly easy to set-up and start. They can literally be as simple as a page on your website. But the ease and availability of blogging is a double-edged sword. While it's tempting to jump online and write as soon as possible, without a clear plan or strategy in mind for your blog it can be easy to lose direction and momentum.
The aim of any blog is to create helpful, valuable and shareable content with a view to building a consistent readership over time. Blogging success requires careful planning.
"Be true to the goals you set out for your blog: Are you providing product information? Are you provoking conversation? Are you commenting on trending topics? All approaches are valid but you need to determine what the value is that you will provide to your audience and continue to deliver that value," says Mike Merriman, vice president of marketing at Mzinga. "If a blog post isn't useful or worth sharing, it won't produce much value for any reader — or the blogger."
Hook Your Readers, Then Reel Them In
Your blog's introduction is key to success. With the average human attention span dropping to just 8.5 seconds, if you can't captivate you reader with your opening sentence then they're not inclined to read any further says HubSpot's Rachel Sprung.
"First, grab the reader's attention. If you lose the reader in the first few paragraphs, or even sentences of the introduction, they will stop reading even before they've given your post a fair shake," she says. "You can do this in a number of ways: tell a story or a joke, be empathetic, or grip the reader with an interesting fact or statistic."
"Then describe the purpose of the post and explain how it will address a problem the reader may be having. This will give the reader a reason to keep reading and give them a connection to how it will help them improve their work/lives."
Create Evergreen Content
As the name suggests, evergreen content is a blog post that stays relevant long after it was initially published. Simply, if a reader was to find the post months or years after it was initially written, they would still find something relevant in the content.
Evergreen content is valuable because it continues to work for you long after you publish it — a far more powerful option than advertising, which is only effective for as long as you're willing to pay for it. Evergreen content fits more search engine queries and is a permanent way for customers to find your business.
"Because evergreen content typically achieves high ranking positions in search engines, it gets found more, which means it contributes a steady, continuous amount of traffic into your blog and website, even long after it was initially published," says Pamela Vaughan of HubSpot.
"As a result of the continuous traffic it generates, evergreen content that is optimised for lead generation also has a powerful capacity to continually generate leads over time."
Write Content Relevant To The Whole Buyer's Journey
The 4-step process of the Buyer's Journey is well documented, but is it something you consider when writing your blog? It comes down to the simple reality that not all buyers are the same and therefore, don't need all the same material.
The needs of a person who has just realised they need a new car will be different to a person who has already started comparing the Toyota Camry with the Ford Falcon. Marketing the same blog content to all prospective customers is asking to be ignored.
The most successful online blogs address people's pain points at various stages of their buyer's journey.
"To hone in on the conflicting needs of your audience, you have to consider the awareness, consideration, and decision stages of the marketing funnel," says Forbes' John Hall. "Prospects in the process of vetting potential solutions to a problem need vastly different information than those just identifying a need."
"By creating content with the buyer's journey in mind, you will simplify the writing process, establish new relationships, and help deepen those connections over time."
Feature A Strong Call To Action (CTA)
Even the most beautifully crafted blog will achieve little if it doesn't allow the reader to take some form of action. In your case, it's to make the leap from reader to customer. This is where CTAs come in.
A CTA motivates people to take a desired action and to take the next step in the buying process. In the case of blogging, it could be to download an eBook, sign up for a webinar or subscribe to a newsletter. It encourages readers to part with their contact information in exchange for a product they consider valuable. Once they hit the 'submit' button on your well-crafted CTA, they have officially entered the marketing funnel and you can begin nurturing them along the sales process.
The purpose of a CTA button is to drive traffic to your landing page – and increase conversion. And there are some recommended best practices for an effective CTA.
Make sure you place CTA buttons in the right place
Ensure it is compelling, concise, conveys value and includes it's own call to action. For example: 'Learn how to convert more website visitors with these 3 easy steps. Click Here'.
Use colours that contrast with your webpage to capture and hold attention.
Direct each CTA to its own dedicated landing page that restates the offer and copy
Other Articles You May Find Helpful: