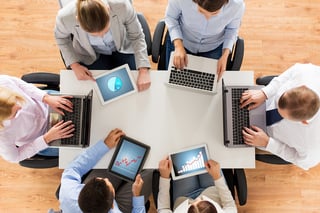 We already know that Inbound Marketing is changing the game, offering new insights into the purchasing habits of modern consumers and innovative ways to connect with them.
But apart from being a new movement in the ever-changing world of marketing, does Inbound Marketing generate sales and contribute to the bottom line? Absolutely. The entire philosophy of Inbound is to tap into the behaviours and attitudes of prospective buyers, offering great content that builds a loyal customer base and future brand ambassadors.
Here's five reasons why Inbound Marketing will generate sales for your business.
1. Inbound Marketing Is Consumer Focused
The whole intent of Inbound Marketing is to create content people love. Inbound marketing reaches people at a time when they are already online, searching for more information or looking to buy. By connecting with them at the start of their buyer journey and offering useful content they enjoy, you naturally draw people to your company, its products and services.
Blogs, tutorials, webinars, eBooks, guides and a strong social media presence are all ways to create and amplify useful content for your prospective buyers. It flips the traditional advertising and sales model by offering helpful content to people who are already looking, rather than interrupting people who may have no interest in your products or services.
It's a powerful way to build an audience, engage prospective buyers and generate genuine sales leads.
2. Inbound Marketing Delivers Better Quality Sales Leads
Because your content is tailored to help and inform prospective buyers, the sales leads you create are usually more informed, educated and knowledgeable about your products and services. Rather than your sales team having to be evangelists, wasting time and energy on converting leads into paying customers — the hard work is already done. By the time a prospective buyer picks up the phone or walks into the store, they're more likely to be ready to buy.
3. It Gives Your Marketing And Sales Strategy A Clear Direction
One of the key components of an inbound marketing plan is preparing buyer personas. This is the process of identifying the pain points of your prospective customers, their thoughts, behaviours and the attitudes that prompt them to choose one product over another. With such detailed information, businesses can target their marketing to the specific needs of individual groups.
No more scattergun advertising, no more 'getting your message out there' for people to ignore or miss altogether. No more wasting money on campaigns and tactics without a measurable ROI. A properly planned inbound marketing campaign will help you identify to whom you should be marketing and how to reach them.
4. It Establishes Your Business And Brand As A Thought Leader
Inbound Marketing becomes a platform from which you can position yourself and your business as an industry expert and thought leader. Blogs, videos, podcasts and social media offer numerous avenues to share your expert knowledge, offer advice and comment on emerging issues. Over time this builds trust with an audience, and when those people are ready to buy, they will turn to your business, having already identified it as an industry leader they respect.
Successful inbound marketers use their platforms every day to raise brand awareness and generate referrals.
5. It Produces Content That Supports The Buyer's Journey
Typically, people will go through the following four stages before purchasing:
Awareness

Consideration

Decision

Action
Inbound Marketing means your business has content available to people at each stage of the buying process. Helpful emails, eBooks and how-to guides educate them along the buying journey from general research about brands and products right through to a final purchasing decision.
Other Articles You May Find Helpful: