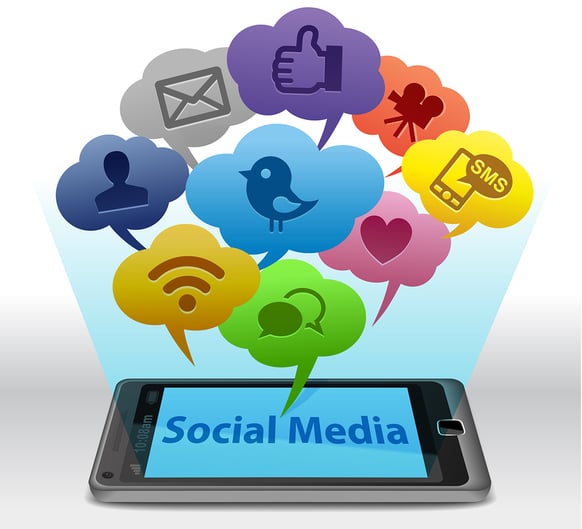 Are you struggling to keep up with the forever changing landscape of social media? Do you feel like you're always the last one to find out about an important social media update or development? Don't worry – you're not alone. According to the State of Inbound 2017, one of the biggest marketing disruptors and challenges is social media. Billions of people across the world 'live' on these networks, so if businesses want to expand their reach, they need to be on top of and participating in social media. The problem, however, is that several times a year there's a new algorithm to understand, a change to your preferred social media site, or even a new social network to learn about. With the ever-changing nature of social media, businesses find it difficult to have control over their social platforms.
It's important to remember that in the marketing industry, you need to be prepared to move with your buyers. And, as technology advances and evolves, so will the way you interact with your customers. To stay up to date with the changing world of social media, you need to be on top of the game. It's hard, we understand! That's why we've put together our best tips for keeping up with social media trends and changes so you can make sure when it comes to social media marketing, you're consistently putting your most up to date foot forward.
Follow social media blogs and influencers
One of the best ways to stay on top of social media is by following those who are in the know – that is, social media blogs and influencers. If there's a new social media feature or trend, it will certainly be written about on social media blogs. Here is our list of some of the best people to follow and why.
General social media blogs/influencers
The Social Media Examiner is one of the largest social media marketing resources out there. Their blog is focussed on helping businesses discover the best ways to use social media to connect with customers, drive traffic, generate awareness and increase sales. The Social Media Examiner offers in-depth articles, expert interviews, original research, and the up to date news on everything businesses need to improve their social media marketing. You can subscribe to their blog to receive weekly social media tips and articles delivered straight to your inbox.
Simply Measured is a great resource for understanding social media analytics. They are leaders in data-driven social marketing and provide insightful and easy to understand blogs on the topic of social analytics. They write blogs on a range of social media topics but they predominantly write about content marketing, the latest news and research in social media and social marketing. You can also subscribe to Simply Measured to receive regular updates of new industry news.
Twitter
Andrew Pickering and Pete Gartland are a multi-award winning marketing duo who tweet about all things creative content marketing. Andrew and Pete work to help small businesses create share-worthy content that creates a brand that people love.
You can follow them on Twitter here. They also have a weekly blog you can subscribe to if you want to stay up to date with Twitter.
Facebook
Andrea Vahl is a social media consultant and speaker who works to help small businesses understand and leverage the power of social media to grow their business. She co-authored the book Facebook Marketing All-in-One for Dummies and worked as the Community manager for Social Media Examiner for over two years. She is particularly savvy on all things Facebook – from using Facebook ads to get more leads, to Facebook engagement, how to write an attention-grabbing Facebook 'About' page, how to amplify your content with Facebook ads and more.
Follow her on Facebook here and LinkedIn here.
Mari Smith is one of the world's leading Facebook marketing experts and social media thought leaders. She's known as 'the Queen of Facebook', is one of Forbes' perennial Top Social Media Power Influencers, and co-author of Facebook Marketing: An Hour A Day. Mari has nearly two decades of experience in the fields of online, offline and relationship marketing and internet technology. You can subscribe to her weekly blog where each week she sorts through an array of social media blog posts, resources, articles, tools and tips and hand picks only three of the best links to send to you via email.
You can follow her on Facebook here and on LinkedIn here and subscribe to her blog here.
LinkedIn
Viveka von Rosen is known around the world as the 'LinkedIn Expert' and regularly speaks to business owners, corporations and associations about the benefits of marketing with social media, and in particular LinkedIn. Viveka has 36,000 followers and a network of over 41 million people on LinkedIn. She also writes a blog on all things LinkedIn, from rocking your personal brand to the best ways to 'sell' your brand.
You can follow her on LinkedIn here and check out here website here.
Ron Nash is a LinkedIn Strategist, Forbes Coach, LinkedIn Career Mentor and Inspirational Speaker. He built his career through leveraging the power of LinkedIn and provides insights and tips into how other businesses can do it too. He is author of the book How to LinkedIn: The Science of Maximizing Your Personal Brand, which is a step-by-step guide on how to use LinkedIn to take your business to the next level.
You can follow him on LinkedIn here, and visit his website here.
Create a habit of bookmarking articles
Bookmarking interesting and relevant articles is a great way to never lose a good reference when you need it. Bookmarking allows you easily refer back to it at a time that's right for you. Perhaps you've stumbled across a blog article that shares the top 10 best tactics to grow your Facebook page but you're in the middle of something urgent and what to refer to it later? In your browser, I use Chrome, all you need to do is click on the star in the browser and choose the right folder. I have my categorised, for example: Facebook Marketing, Facebook Ads, LinkedIn Marketing but I also have a folder called "TO READ" I use this for articles I don't have time to read or action and want to come back to before filing into their respective folders. Within your browser menu you should see "bookmarks" if you click on this you'll see the option to manage your bookmarks – this is where you can customise folders and sub-folders.
Similarly, there are quite a few news aggregation RSS feeds out there that you can customise and subscribe to in order to centralise all your news. Feedly is a popular choice, but there's also sites and you can check out a list of good ones here. Using a news aggregation feed allows you to easily search for topics and names of publications to add to your feed to keep you as informed as possible on new social media updates and trends.
Start with just 15 minutes per day
You don't need to become overwhelmed by social media and dedicate half your day to it in order to stay up to date. Start with just 15 minutes per day to stay on top what's going on in the social media sphere. You could do it first thing in the morning while you have your morning coffee.
Other Articles You May Find Helpful: