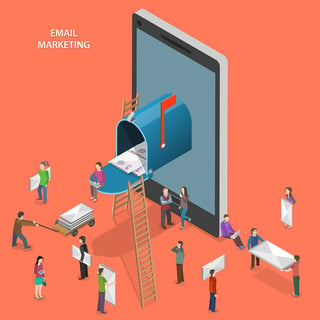 Contrary to what you may believe about online marketing, email is not a dirty word.
Email marketing remains a trusted marketing avenue amongst most consumers, thanks to the way our inboxes can be organised, sorted and viewed at our leisure. Consumers are familiar with email and it's one forum where they feel a greater sense of control.
So much so that research from Experian states that for every $1 invested in email marketing it can create up to $44.25 in return. It's for this reason email marketing still needs to form part of your digital marketing strategy.
Need more proof? Consider these statistics from email marketing gurus Campaign Monitor:
The total number of worldwide email accounts is expected to increase to over 4.3 billion accounts by year-end 2016.
There are 3x more email accounts than Twitter and Facebook accounts combined.
92% of online adults use email, with 61% using it on an average day.
When asked to opt-in to receive updates from a company, only 10% elected to do so through Facebook, while 90% chose to receive email newsletters.
70% of email readers open emails from a brand or company in search of a deal, discount, or coupon.
Email is 40x more successful at acquiring new clients than either Facebook or Twitter.
You are 6x more likely to get a click-through from an email campaign than you are from a tweet.
Compared to social media, email is a mature channel for engaging online consumers. Its longevity is a testament to its ability to convert leads into buyers and buyers into repeat customers.
How To Make Email Marketing and Automation Work For You
Build a Permission-Based List
Firstly, under no circumstances should you buy an email list and spam the subscribers. Those shady days of digital marketing are long gone and companies found guilty of such practices can face severe penalties.
Instead marketers need to build an opt-in list of subscribers who have volunteered their email address because they know that helpful and useful content is going to be delivered to them. The key to building a permission based list is encouraging your web visitors to hand over their email addresses in exchange for content they will find valuable or useful.
Get Your Company 'Whitelisted'
Spam filters. Yes, they have their virtues. That Nigerian Prince probably isn't offering you $2 million and it's better that spyware virus never lands in your inbox.
However, any marketer knows that such filters can be over-active at times. All of us have had a perfectly legitimate email marked as 'Spam' and relegated to the junk folders of our email. If you're a business attempting to market its product, this can be disastrous. This is where 'Whitelisting' is essential.
Whitelisting is the process of adding simple instructions to your emails that allow the end users to mark your company as a 'safe sender'. It means your carefully crafted marketing emails bypass the filters and land directly in your customer's inbox - right where you want them.
Need to learn more about whitelisting? Read these handy instructions from Campaign Monitor.
Create a Dedicated Landing Page for Each Email Campaign
Each email campaign should be supported by a dedicated landing page primed to convert your readers to customers. You don't want to entice your readers to your website, only to lead them as far as your homepage and force them to figure out the rest on their own. To use boxing terminology if your email is the left jab, the landing page is the right hook.
The ideal landing page reflects the messaging from your email, restates your offer and makes it easy for your readers to take the next step in the process through a simple and intuitive conversion form.
Want to learn more about writing the perfect landing page? Start here.
Segment Your Email List
With the ease of email marketing and endless templates at our disposal, it can be tempting to send out mass emails with little nuance or tailored content. Yet it's important to remember that even if your company specialises in one product or service, your customer base is still made up of various subsets of people. The content needs of someone who is researching holiday destinations will be different to someone who has already booked their tickets to New York.
Whatever your product or service, you need to think of your subscriber list as different people who are at various stages of the sales funnel. Blanketing them with the same, broad message won't be as effective as sending each a targeted email that addresses their specific problems and needs.
Enable Social Sharing
Social Sharing is when your email includes an option for the reader to share the entire email (or a specific section) via their social platforms.
Most email marketing templates nowadays will allow you to include social media icons that link directly to your relevant channels. While this is obligatory in today's environment, it's also important to encourage subscribers to share your emails with specific contacts who may be interested connecting with your business. Including a sign-up feature on your marketing emails is as essential as having social media buttons.
A/B Testing
Effective email marketing relies on the right combination of tools that work together to attract and convert. Subject lines, imagery, snappy copy and call-to-actions all work together to engage your readers. But which combination is best for your emails? Only you will be able to answer that.
That's why testing is such an important part of developing your email marketing. A/B testing (also known as split testing) has become a common practice for many companies. A/B testing compares two versions of an email against each other to determine which one performs better. The data generated by an A/B test gives important insight into the preferences of your website visitors and which email combinations generate the highest open and click-through rates.
A simple A/B test run by Barak Obama's online team in during the 2008 election helped generate immense support of the then Presidential candidate. The test compared different images and call to action buttons in Barak Obama's digital marketing, trialling various combinations and phrases.
The test revealed that a family photo of the Obamas with the call to action button 'Learn More' generated a 40% increase in online leads when compared to any other combination. This small but significant insight helped generate an additional 2.8 million online leads and millions of dollars in extra campaign donations.
It's an indication that even small changes to your emails can make a huge difference to the way you generate and convert leads, and the importance of testing in helping you get the right mix.
Automating Your Email Marketing
Marketing automation refers to the software that makes repetitive marketing actions more efficient and less labour intensive. Many marketing departments have to automate repetitive tasks such as emails, social media, and other website actions. The technology of marketing automation makes these tasks easier by nurturing prospects with highly personalised, useful content that moves them along the sales funnel.
If your initial email is the seedling, marketing automation is that water that helps them blossom into paying customers. This can be lead nurturing workflows, eNewsletter subscriptions, triggered emails, social media posts and lead scoring.
Other Articles You May Find Helpful: