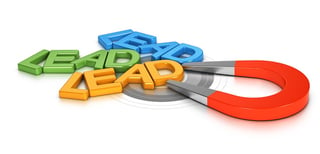 So your website is up and running, your blog is building a solid readership and traffic to your site is growing. The next step? Converting those visitors into leads and customers.
To grow your business and attract new leads, you have to go beyond just attracting people to your site. So how do you convert your website visitors into leads? Develop a valuable offer they can't ignore.
1. Know Your Buyers
There are numerous tips, tricks and website plugins that promise to help convert visitors to leads. But not all of them will be right for you. It's important to take an objective view of your website, its capabilities and the type of customer you are trying to attract. This is where Buyer Personas are especially helpful. They help you understand the person who is most likely to buy your product, by providing valuable insight into the information they find helpful.
2.

Publish Helpful & Valuable Content
When competitors are only a click away, why should a prospective customer choose your company over another? The answer: Content. Compelling, relevant and helpful content! If you understand your buyer correctly, you will accurately understand the information for which they are looking. This will set your business apart from the competition (who are probably talking about themselves), and attract the right people to your organisation.
Content such as; blog posts, free reports, eBooks, whitepapers, infographics and webinars that answer peoples' questions and address their pain points, will position you as an industry thought leader. Being viewed as an industry thought leader will help people trust your organisation – a crucial part of the buying process. Find out why blogging gives you a business advantage.
3. Identify Who Is Interested In Your Company
Now that you have attracted people to your website with helpful information it's important that you identify who they are so you can begin building a relationship with them. Research says that people are 60-70% of the way through the buying process before they're ready to engage with a sales person. This means that most people on your site aren't quite ready to speak to a sales person, they're just conducting research.
But how can you identify these people? By 'gating' your most valuable and helpful content. Gating means putting information behind a form that people need to fill out with their contact information in order to access that content. Popular forms of gated content are: reports, eBooks, guides or webinars. The content they want is still free, but to access it they have to hand over some simple information about themselves and how they can be contacted.
4. Use Landing Pages To Convert
A landing page is a website page that is designed to convert people into leads. There's been a fair amount of research conducted over the years, to identify best practices to boost landing page conversions.
Here's a quick checklist to help you boost landing page conversions:
Make sure the heading is clear and uses the same words on the call to action button they clicked on, which brought them to the page (more on calls to action later).

The intro paragraph should be short, yet compelling. Grab their attention by tapping into a painpoint, and end with your offer as a solution. List the benefits of your offer in bullet point form – this makes it easy for people to read.

Finally end with the call to action for this page which is to take the desired action ie: 'download the ebook by filling in this form' or 'sign up for the webinar by filling in this form' – whatever your offer is.

Use contrasting colours to make key actions pop off the page ie: colour of the form or the button that says 'download here'.

Build trust and credibility by using stats from research to support your claim. Make sure your logo and branding are visible on the page.

Remove any other other distractions that might direct people off the page before they've converted. Remove the top navigation bar and don't have any other links on the page they might be likely to click.

Conversion form – how many form fields should you have? In other words how much information should you ask for? The simple answer is, that it should equal the value of what you are freely giving away. For example, an ebook may only ask 3 questions; name, company and email. But something of perceived greater value like a report or whitepaper may ask for more valuable information like; job title, industry, organisation type and pain points. It's best to start with fewer questions as fewer fields generally lead to higher conversions. After some time review the quality of those leads. If you're generating a high number of leads, but finding the information low quality, increase your questions. The other thing to consider is your objective or reason. Are you looking to gather certain information to help you better understand your leads, better qualify your leads or understanding where they are in the buyers' journey? Then make sure you include questions that will help you achieve your objective.
5. Create Compelling Call to Action Buttons
A call to action (CTA) motivates people to take a desired action. For the purposes of this section we're talking specifically about CTA buttons that promote your offer and link to a landing page.
The purpose of a CTA button is to drive traffic to your landing page – conversion page. And there are some recommended best practices for increasing click through rates (CTR).
Make sure you place CTA buttons in the right place – high trafficked pages, or relevant pages like product and service pages or blog articles.

Ensure it is compelling, concise, conveys value and includes it's own call to action. For example: 'Learn how to convert more website visitors with these 3 easy steps. Click Here'.

Use colours that contrast with your webpage to capture and hold attention.

Direct each CTA to its own dedicated landing page that restates the offer and copy from the CTA.
Other Articles You May Find Helpful: