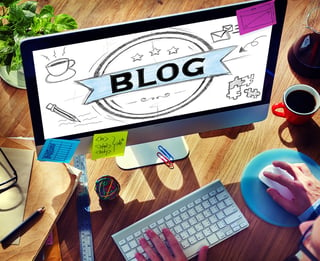 It seems that these days, every business and budding entrepreneur has a blog. Some people use it really effectively, others neglect it only posting new material as an after-thought or when time permits.
But that approach can be seriously holding back your business, stifling your attempts to generate new leads and draw traffic to your website. Blogs are a powerful way to generate fresh content for your website, boost your search engine rankings and connect with prospective buyers.
Here's how blogging can become one of your key business tools.
1. Draw People To Your Website
As we've discussed previously, your website needs to be your star marketer. But the content on your home page is typically fairly static, and how often can you really update your 'About' page?
The bigger question is how can you make your website market for you, rather than sit on the search engine shelves gathering dust?
The answer is a blog. It gives you an avenue to create fresh, compelling, high quality content, something that search engines love. A regular blog is a signal to Google, Bing and other search engines that your site is active which is a key factor in search rankings.
Every blog post is also a new page added to your website, which can be indexed. HubSpot research has shown that businesses with more than 400 pages of content generate six times the online leads compared with sites that only feature 50 - 100 pages.
If you want to turn your website into a lead generating and marketing powerhouse, get blogging.
2. Generate Leads
It goes without saying that any blog post needs to be well-written and engaging. But perhaps the most important part of any blog is its call-to-action.
A call-to-action is a direct prompt for your reader to take a specific action. The typical call-to-action would invite the reader to download an eBook, white paper or tip sheet or even to sign up for a webinar; anything that a reader would be happy to receive in exchange for handing over their information.
Find out more about writing the perfect call to action
By volunteering their email address and/or phone number to obtain your offer, you now have a new lead, a person with whom you can make a more personal connection.
3. Position Yourself As An Industry Leader
A blog is a platform to share your expertise with the world. It's an opportunity to offer advice, share information and answer common questions about your industry.
Imagine if a prospective buyer relied on your blog to get the information they needed to perform better at work, or complete a complex task. Already, they are beginning to trust your company and your brand. When they want to enter the sales process, you'll be their top pick, because they know they can trust your products and services.
By using your blog to achieve these things, you are stating to the world that you are an expert in the field, a leader, and someone who can be trusted
4. Supercharge Your SEO
Bet you can't name a business that doesn't want to rank highly in Google. Thought so.

Search Engine Optimisation, or SEO, is the biggest influencer in search engine rankings and online conversions. With well-executed SEO and optimised content, your website will start climbing the search engine ladder.

Follow this link for more information about SEO

A blog can be your SEO cornerstone, the key platform that launches your website to the top of Google and the eyes of thousands of potential customers.

Here's just some of the ways a blog can improve your SEO:
Creates fresh and regular content, which search engines look for and score highly when ranking their search results
Creates links that can be shared on other websites and social media platforms, a signal to search engines that your website it legitimate and trustworthy
Creates more indexed pages, which boost rankings and click-throughs
With regular blogging on relevant topics, your website will start to fit into more search queries, increasing the number of potential click-throughs and traffic to your website
5. Get Social
How many businesses have social media platforms that sit and stagnate, starved of fresh, original and relevant content?


A blog overcomes this problem by giving your business a constant stream of topics and information that you can tweet, pin, post and share across your social media channels.

A typical blog post can easily generate 5 – 10 social media posts, and be the catalyst to find additional media that demonstrate your point (think photos, podcast episodes, YouTube videos etc).

Social media is also a great way for your blog to reach people who may not have heard of your company, or have even been looking for you. If you blog regularly and amplify it through social media, you can reach more people than would ever be possible though paid advertising and email lists.
Other Articles You May Find Helpful: