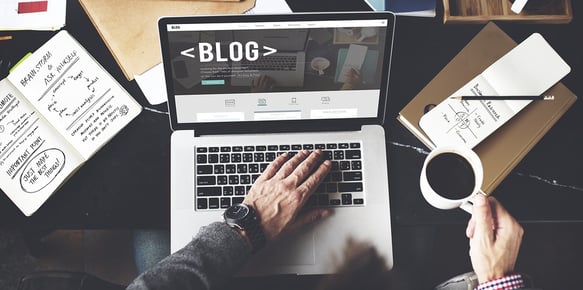 On 17 December 1997, science fiction and literary enthusiast Jorn Barger sat down at his computer and retitled his online diary – a collection of his musings covering everything from AI to James Joyce – to 'weblog'. It was a blend word combining the phrase 'logging the web'.
Shortly afterwards Internet entrepreneur Evan Williams coined the phrase 'blog' as both a noun and a verb, meaning 'to edit one's weblog or to post to one's weblog'.
Fast forward two decades and what started as a few hobbyists writing about their individual passions has morphed into a worldwide movement that has become the cornerstone of modern marketing – especially inbound marketing.
Blogs are a tried and true marketing tactic, used by everyone from small businesses to global companies to promote products, build audiences and connect with new and existing customers. Even Richard Branson finds time to blog vigorously.
Yet, many small businesses are still cautious when it comes to launching a company or product blog. But with careful planning and a well thought-out strategy, blogs can become a key weapon in your marketing arsenal.
Consider the facts:
B2B marketers who use blogs receive 67% more leads than those that do not.
Marketers who have prioritised blogging are 13x more likely to enjoy positive ROI.
Companies who blog receive 97% more links to their website
Blogs have been rated as the 5th most trusted source for accurate online information.
Source: HubSpot
So Why Exactly Is Blogging Essential To Small Business Marketing?
It Levels The Marketing Playing Field
The philosophy of inbound marketing is to create content people love. And content creation isn't dictated by budget size, but by understanding your buyers. By committing time and effort, it's possible to build a powerful and persuasive blog on a shoestring budget.
Well written blogs can reach a mass audience in moments through the power of social media, attracting people to your business at a time when they are looking for the services you provide.
Suddenly small business have the ability to reach audiences traditionally only available to large companies through paid advertising.
It's Responsive
Consider the time it takes to develop and approve a newspaper ad, brochure or television campaign. Compare that to the time it takes to write a blog post.
Blogging allows you to respond immediately to emerging trends, placing your business as a relevant thought leader with a potentially enormous audience. Outbound tactics on the other hand are costly and time consuming, and don't typically allow the flexibility to be responsive and proactive to real-time events.
It's Cost Effective
A blog hosted on your website allows you to create and control your own content, and amplify it through social media – at low or no cost. In today's environment, it's possible for a small business to design and deliver a campaign that has as much reach and impact as big budget companies.
It Builds An Audience and Creates Brand Ambassadors
While a blog allows you to be reactive and to stay current with new events, maintaining a blog is a long-term commitment to create great content and build an audience. A blog delivers long-term and consistent benefits that far outweigh the boom and bust cycle of outbound tactics like advertising.
For example, a Google Adwords campaign or a paid Facebook campaign will only be effective for as long as you're paying for it. A well planned and maintained blog however can continue to generate leads for years – and it's totally free.
By producing regular and valuable content, your business can start to build an audience of people who are loyal to your brand. These dedicated loyalists may become leads and customers or ambassadors for your business. Sharing your content with their own audience and generating more leads and even further reach for your brand.
It Draws People To Your Website
As we've discussed previously, your website needs to be your star marketer.
But how can you make your website work for you, rather than sit stagnant on the back pages of the search engines?
The answer is a blog. It gives you an avenue to create fresh, compelling, high quality content, something that search engines love. A regular blog is a signal to Google, Bing and other search engines that your site is active, which is a key factor in search rankings.
Every blog post is also a new page added to your website, which can be indexed. HubSpot research has shown that businesses with more than 400 pages of content generate six times the online leads compared with sites that only feature 50 - 100 pages.
If you want to turn your website into a lead generating and marketing powerhouse, get blogging.
It Generates Leads
It goes without saying that any blog post needs to be well-written and engaging. But perhaps the most important part of any blog is its call-to-action.
A call-to-action is a direct prompt for your reader to take a specific action. The typical call-to-action would invite the reader to download an eBook, whitepaper or tip sheet or even to sign up for a webinar; anything that a reader would be happy to receive in exchange for handing over their information. Find out more about writing the perfect call to action here.
By volunteering their email address and/or phone number to obtain your offer, you now have a new lead, a person with whom you can make a more personal connection, all made possible thanks to your blog.
It Positions Your Business As An Industry Leader
A blog is a platform to share your expertise with the world. It's an opportunity to offer advice, share information and answer common questions about your industry.
Imagine if a prospective buyer relied on your blog to get the information they needed to perform better at work, or complete a complex task. Already, they are beginning to trust your company and your brand. When they are ready to enter the sales process, you'll be their top pick, because they've developed a relationship and familiarity with your business.
You Can Get Social
How many businesses have social media platforms that sit and stagnate, starved of fresh, original and relevant content?
A blog overcomes this problem by giving your business a constant stream of topics and information that you can tweet, pin, post and share across your social media channels.
A typical blog post can easily generate 5 - 10 social media posts, and be the catalyst to find additional media that demonstrate your point (think photos, podcast episodes, YouTube videos etc).
Social media is also a great way for your blog to reach people who may not have heard of your company, or have even been looking for you. If you blog regularly and amplify it through social media, you can reach more people than would ever be possible though paid advertising and email lists.
Other Articles You May Find Helpful: