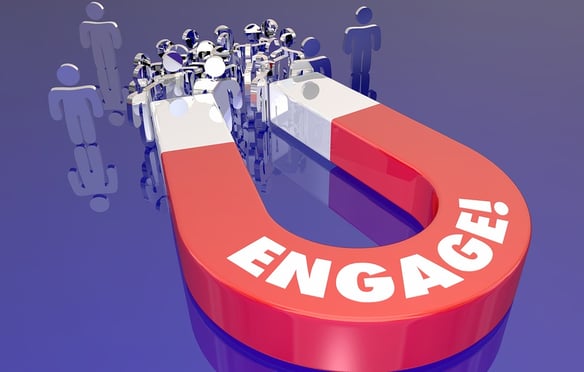 Why do you use social media? Do you use it to raise awareness of your brand or business? Do you use it to increase traffic to your website and to improve sales? While these are all valid and useful reasons to use social media, how often do you think about using social media to truly engage with your customers and future prospects? How much time do you spend building a connection, a sense of trust and loyalty with your audience? When you post on social media, if all you're thinking about is 'the sell' – chances are, you're not going to sell much of anything.
To really drive traffic to your website and fuel sales, you need to be engaging your audience. According to the 2017 Social Media Marketing Industry Report published by Social Media Examiner, tactics and engagement are top areas marketers want to master. At least 91% of marketers want to know the most effective social media tactics and the best ways to engage their audience with social media. And, of those who have been using social media for at least a year, 67% found it useful for building a loyal fan base. However, to build a loyal fan base, it is essential to implement tactics that are really engaging your audience. In this blog, we are going to discuss some of the most effective engagement tactics to build a connection, trust and brand loyalty with your audience.
Create an engagement strategy
To successfully engage with your audience, you need an engagement strategy. It doesn't have to be too in-depth, but it should be something you can quickly draw from when you need to engage with a post, comment or tweet. When you join the conversation on social media, you will find all types of comments, from complaints, to praises and the like. A good idea is to create a document that allows you to be strategic about the best response to each type of comment you receive. However, you don't want to give a blanket response to all negative comments or all positive comments. You need to tweak each response on a case by case basis so that it answers the specific concerns of the person who is engaging with you.
You should likewise be strategic about your responses based on the different social media channels you're on. For example, a comment on LinkedIn would have a much different response than a tweet. Knowing and understanding how each channel works should be at the center of how you engage with your audience on social media.
Consistently evaluate and modify
Once you've created your engagement strategy, it is important that you regularly evaluate and modify it over time. You'll soon learn how your audience prefers to engage, as well as what works and what doesn't. Keep track of your wins and losses – these will ultimately help you understand how you can best treat each individual comment. Of course, your audience will comprise of many different types of people so even after evaluating and adjusting your strategy, you won't be able to win every time (as hard as it is to accept!).
Know why your audience is on social media
If you can tap into why your audience uses social media, you'll have a much better chance of authentically engaging with them. Does your audience use Facebook to scroll through the latest news stories? If so, increase the amount of newsworthy content you post. Do they use Instagram to keep up to date with what their friends are doing? If that's the case, you could try posting more 'behind-the-scenes' pictures of your business. If your audience is scrolling through Instagram and they come across a picture of you or someone in your business doing something fun, they are more likely to stop scrolling and engage with your post.
Don't be afraid of humour
Social media was created to be entertaining – not a platform for selling. While of course these days a majority of businesses do use social media to promote their products, it is important to always keep in the back of your mind social media's intended purpose. Using humour in your content is a great way to promote your brand while also keeping your audience engaged and entertained. Ever heard of Frank Body? They took the simple idea of acne fighting, skin smoothing coffee scrub and turned it into a business that has nearly 700K followers on Instagram. How? Through humour and tone of voice. Their Instagram captions are written in the voice of Frank, who's a little bit cheeky, a little bit flirty and a whole lot of fun. The co-founders originally funded Frank Body with less than $10,000, in 2016, after just over 18 months in business, the company made over $20 million in brand sales.
Encourage user-generated content
Frank Body are an excellent example of how you can increase engagement through encouraging user-generated content. Using the hashtag #letsbefrank, the brand has encouraged thousands of Instagram users to 'get naked' and pose with a bag of Frank Body Coffee Scrub and its contents rubbed on their face. It's cheeky and fun, but it really gets their audience engaging with what they have to sell. The Frank Body Instagram also regularly re-grams their user-generated content, so it's an incentive for people to create content if they know it could be shared with hundreds of thousands of Instagram users.
There are many different tactics you can try when attempting to increase your engagement on social media. These are just a few of our favourites, which are easy to implement into your social media strategy right away!
Other Articles You May Find Helpful: