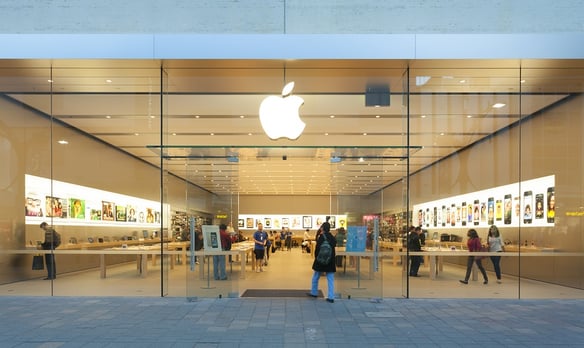 This week's blog comes from the keyboard of my brand new computer - a long overdue upgrade and one I had been putting off for way too long. As anyone who's bought a new computer recently would know, it's a relatively painless process. I knew what I wanted and I was done in a matter of minutes. But as I was taking my new toy from the box it struck me just how different this purchase had been from our household's very first computer.
It was the 90s and it was an agonising process. By today's standards there was little information about computers available at the time. There was nothing to 'Google' because, well, 'Google' didn't exist - at least not in the form we know today. I couldn't post anything to Facebook asking for friends' recommendations – Mark Zuckerberg hadn't yet graduated High School. I couldn't even read online blogs about it. We literally had to trawl electronics stores talking with salesmen and settling for a brand we recognised and hoped would fit our needs.
Contrast that saga with today's purchasing process. Whenever we're in the market for a new computer - or any device for that matter - it all starts with an online search where we research brands, seek reviews and recommendations and compare prices long before we set foot into a store. A process that once took buyers an entire day or longer can now be done in minutes. This new buyer's journey has become common around the world.
Research tells us that:
70-90% of the buyers journey is complete prior to engaging a vendor (Forrester)

Consumers engage with 11.4 pieces of content prior to making a purchase (Forrester)

Consumers are 5x more dependent on content than they were 5 years ago (Nielsen)
There's no denying that the buyer's journey has changed. That's why it's essential that the way we communicate with modern buyers changes too.
A new philosophy for a new buying environment.
With customers more engaged and informed than ever before, businesses are being challenged to find new ways to connect with prospective buyers. This new approach is being spearheaded by Inbound Marketing: a philosophy based on the principle that delivering valuable, helpful content to people when they are looking to purchase is the best way to influence modern buyers.
And it seems the rest of the world is catching on.
HubSpot's most recent State of Inbound report surveyed almost 4,000 marketers from around the globe. The results showed that 3 out of every 4 marketers now prioritises an inbound approach to marketing.
Interestingly, paid advertising was ranked as the most overrated marketing tactic, a sign that the times are truly changing. So why exactly is inbound marketing becoming so popular amongst marketers across the globe? The answers speak for themselves.
It works!
Research has found that companies that blog generate 67% more leads per month than those that don't. In addition, Axonn (formerly known as ContentPlus) discovered that content produced via inbound marketing give websites 434% more indexed pages and 97% more indexed links, which is SEO gold. In simple terms, inbound marketing directs more traffic to your website, making it a powerful tool in lead generation.
It builds your brand Inbound marketing is a platform to share your expertise with the world. It's an opportunity to create great content offering advice, sharing information and answering common questions about your industry.
Imagine if a prospective buyer relied on your blog, eBook or webinars to get the information they needed to perform better at work, or complete a complex task. Already, they are beginning to trust your company and your brand. When they want to enter the sales process, you'll be their top pick, because they know they can trust your products and services.
By making a commitment to inbound marketing, you are stating to the world that you are an expert in your field, a leader, someone who can be trusted and who prospective customers should do business with.
It's cost-effective.
According to Search Engine Journal, inbound leads cost 60% less than outbound leads. It's no surprise when you consider that some of today's most powerful and influential marketing tools are free, or come at minimal cost. Today's buyers are hanging out in places like Facebook, Twitter, YouTube, LinkedIn, SnapChat and Pinterest — and anyone can start an account and join the conversation in a matter of minutes. In today's environment it's possible for a SME to design and deliver a campaign that has as much reach and impact as big budget companies.
It cuts through the noise and connects directly with your customers.
Inbound marketing offers businesses one of the most important competitive advantages: the opportunity to know your customer. A key part of developing and delivering an inbound marketing campaign is profiling your prospective customer and understanding their thoughts, behaviours, pain points and purchasing criteria. It's a powerful tool in helping companies tailor their marketing program and deliver content designed solely for their target market.
Inbound marketing is a commitment to creating content that is useful and helpful to your prospective buyer, that builds a relationship with them over time and delivers a solution for their needs. Inbound marketing offers an immediate way to stand out from the crowd, connect directly with your ideal customer and attract people to your business.
Other Articles You May Find Helpful: