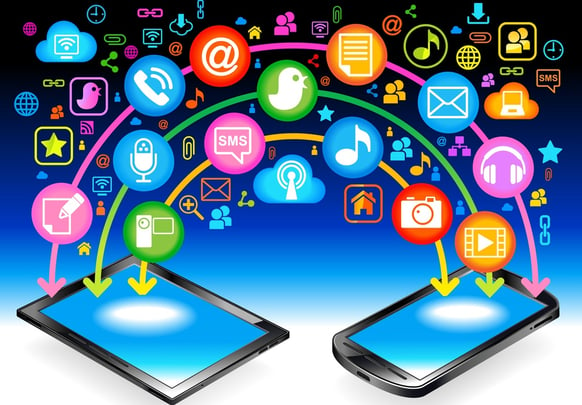 Here's a thought: does your brand or business really exist online if it's not represented across social media and you regularly interact with your followers? The fact that the latest data shows we will spend five years and four months on social media over the course of a lifetime should give you your answer. So why is it that nearly half of small businesses don't actually have an active social media presence?And really, when 88% of marketers indicated in the 2017 Social Media Marketing Industry Report published by Social Media Examiner that their social media efforts generated more exposure for their businesses, why wouldn't you have a presence? More than half of marketers who've been using social media for more than 2 years reported it helped them increase sales. Furthermore, 74% of those who spend over 40 hours per week earn new business through their efforts. And, with as little as 6 hours per week, over 91% of marketers indicated their social media efforts increased exposure for their business.
In 2017, there really is no excuse for businesses to not be using social media and reaping the rewards that come with having a social media strategy. Here are some other reasons why your business needs a social media strategy.
It increases your visibility on Google
One of the great benefits of having a presence on social media is that it boosts your chances to get in front of people searching on Google (which is basically everyone). The more spaces you control in Google's search results pages the better, because it significantly increases the chances of people finding your business online
Furthermore, social media marketing can greatly boost your search engine ranking. Did you know that Google looks at your social media presence when determining where your business ranks on the search results page? Google is pretty clever and checks out your followers and engagement on social media. Brands with higher numbers of followers and engagement will show up higher in search results.
It creates the opportunity for relationship building
Social media provides marketers a really unique insight into the life of their buyers. Social media platforms like; Facebook, LinkedIn, Twitter and Instagram are especially useful as they provide you with an opportunity to interact with your buyers on a personal level – it's kind of like being virtual friends with your customers. Having this connection is incredibly beneficial if leveraged wisely because you can boost brand loyalty and improve your customer service.
Social media users are more receptive to your messages
Social media is just as its name suggests – it's social. People who connect with companies on social media are interested in what brands have to say and therefore, more responsive to your posts and offers. However, remember the 80/20 rule. Eighty percent of what you post should not be self promotional, share content that your audience will find helpful, fun or interesting so they're more inclined to like, comment and share your content. Then, when you have a sales offer they are more inclined to respond because you've built a level of trust and credibility with them.
It increases brand awareness and brand loyalty
Social media is one of the easiest and quickest ways to get your brand or business in front of a massive audience. Being present on social media makes it much easier for potential and current customers to find and engage with you. Did you know that 33 per cent of people use social media to discover new businesses?
Generally, once someone follows you, they'll keep following you (as long as you consistently produce good content). Every time you post content your brand name will appear in their feed, keeping you top of mind when they next need a product or service you provide.
Social media ads allow you to target specific audiences (and retarget)
Social media isn't just great for connecting with customers, it's also great for reaching new people who are your target audience. For example, Facebook ads allow you to target users based on things like their location, the industry they work in, their interests and a lot more. You can also go one step further and install a Facebook pixel on your website and use it to retarget users who visited your website. This enables you to promote a compelling offer to people who are already familiar with your company and therefore, more likely to respond to an offer than those who have never heard of your company. If you're interested you can learn more about the Facebook pixel here.
A good social media strategy doesn't have to cost a fortune
For the most part, an effective social media strategy can cost you next to nothing. It can also be completely free. All you need is someone on your team who has a way with words, can create eye-catching and shareable pictures and you're good to go. Of course, ads aren't free, but ads aren't necessarily what's going to get you the most website traffic and sales. Sometimes all it takes is producing consistently good content and sharing it on social media channels where your buyers are, and you'll be increasing leads and customers in no time.
These are just a few of the reasons your business needs a social media strategy but there are so many more (we could almost write a novel on it)! If you're new to using social media, start off by focusing on one channel before progressing to multi-channels. With a consistent effort to post regularly and engage with your followers, you'll be a pro in no time.
Other Articles You May Find Helpful: