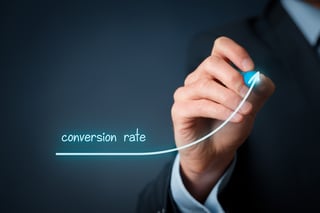 By now we're all well versed in the importance of a responsive website, optimised for sales and SEO. If things are going really well, your blog is up and running and your social media platforms are directing people to your website. If you're really on top of your game, you've published awesome content like eBooks or webinars, and landing pages are capturing new leads. If this sounds like you, then congratulations: you've made it halfway!
Directing people to your website is a challenge. But lead generation is a marathon, not a sprint. And like a hill at the 30km mark, the hardest part is still to come: Conversion. Converting website visitors into leads, and leads into paying customers.
In today's online environment competition abounds. Converting leads is the foundation for business success. But competition aside, there are mistakes marketers commonly make that undermines their own lead generating tactics, costing them customers and valuable revenue. Here are five of the most common lead conversion killers, and what you can do about them.
1. Not Properly Qualifying Leads
When you first convert a website visitor you may only know their name, company and email address – making it difficult to know how qualified they are or where they are in the buying process. This is where analytics plays an important role in tracking people's engagement with your company so you can better identify leads and their specific needs and interests.
These analytics reveal if someone has downloaded an ebook, but doesn't spend long on your website and never returns. In this case they are probably an 'unqualified' lead. However if someone downloads the same ebook, but then subscribes to your blog and spends time navigating your website, then this person is more than likely a 'qualified' lead.
The needs of these people are very different, and they are likely to be at different stages of the buying process. So you don't want to send them both the same email, offer or content. You want to customise it based on their engagement with your company so you can better understand how qualified they are.
2. Not Testing
Can you answer these questions?
Which button achieves higher click-through rates for your website, 'Click Here' or 'Submit'?.

Do videos or photos entice more people through the buying process?

Are people finding your website via your blog posts, or Google searches?
If you're looking at the screen with a blank stare, chances are you haven't done enough testing to understand your leads and the best methods to convert them.
To help answer those questions, A/B testing (also known as split testing) has become a common practice for many companies. A/B testing compares two versions of a web page against each other to determine which one performs better. The data generated by an A/B test gives important insight into the preferences of your website visitors and which tools generate the most leads. It often means making just one change at a time and assessing which version performs better.
A simple A/B test run by Barak Obama's online team in during the 2008 election helped generate immense support of the then Presidential candidate. The test compared different images and call to action buttons on Barak Obama's homepage, trialling various combinations and phrases.
The test revealed that a family photo of the Obamas with the call to action button 'Learn More' generated a 40% increase in online leads when compared to any other combination. This small but significant insight helped generate an additional 2.8 million online leads and millions of dollars in extra campaign donations.
It's an indication that even small changes to your website can make a huge difference to the way you generate and convert leads, and the importance of testing in helping you get the right mix.
3. Incorrect Lead Nurturing
The needs of a sales ready lead will be vastly different to the needs of a lead still in the research phase; it's essential to recognise these differences and offer relevant content accordingly. Offering content that doesn't align with your lead's place in the buyer's journey will only frustrate and confuse them.
It is important to develop multiple lead nurturing processes that align with the different needs of people. With a good marketing automation tool you can set this up so that emails are triggered based on people's engagement and interests on your website. This way you can ensure people are getting information they're looking for, when they're looking for it.
4. Forgetting To Personalise
According to the Custom Content Council, 61% of consumers say they feel better about a company that delivers custom content are also more likely to buy from that company. Personalising your content based on the names, industry, job titles of even geographic location of your leads goes a long way towards boosting lead conversion.
Other Articles You May Find Helpful: