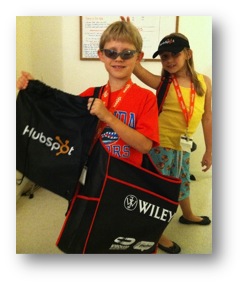 So you've signed up to HubSpot.Welcome to the exciting world of Inbound Marketing!
Having been part of the Inbound Marketing evolution from the start, I can attest to the power of HubSpot and the breadth of their incredible resources. If you're a newcomer, perhaps you're now looking for an agency that can help you get the most out of this powerful marketing tool. Maybe you need help with setup - technical expertise and website design - SEO expertise, or maybe a strategy to generate more leads and customers. Or maybe it's all of the above. Or maybe you have no idea what you really need at all!
That's ok. The purpose of this article is to walk you though some of the fundamental topics you should cover when choosing a HubSpot partner for your organisation.
Before we get started…
Throughout this post we use terms such as 'HubSpot partner' 'Inbound Agency' and 'Inbound Marketing Agency'. They are terms all used interchangeably and mean the same thing.
1. Your Goals and Challenges
The best agencies will spend more time asking you questions about your organisation, goals and needs rather than talking about their services or solutions. Because honestly, how can they really help you achieve your goals if they don't know what they are? Initially they will take time to understand your needs and challenges, and where you want to go. This process will help them understand if they really help you or not.
2. Guaranteeing Results
Be wary of any agency promising you a specific outcome like a top listing on Google, or a certain number of leads within a set timeframe.
Some agencies may oversell their services just to win your business or others may resort to unethical tactics to get short term gains. However, such tactics impact your long-term success and can damage your brand and reputation. Some tactics could even get your website banned from Google altogether. Ouch!
With so many variables, you need to understand the tactics an agency might use to achieve results. Reputable agencies will set goals that you both agree on, and plan out a strategy to achieve them. They will keep you informed along the way, and let you know if any adjustments are required that will help you move closer to achieving your agreed goals.
It's important to make sure the process to achieving results is thoroughly explained, and while goals and targets are important, they shouldn't come with an iron-clad guarantee.
3. Rigorous Reporting
Before choosing your HubSport partner, ask about their reporting process. An Inbound Marketing Agency should be able to report on tasks, results and how they align to goals and expectations. They compile this data to paint an overall picture of the progress of your campaigns, to keep you informed about the tactics that are working and those that aren't so you can adjust marketing efforts and get you closer to your goals.
4. Responsiveness
You need an agency that is nimble enough to adapt to change and respond to new information - not complete tasks just for the sake of it.
While it's important to set goals and work towards them, reputable agencies understand that tactics often have to change based the data and analysis that comes through after the strategies have been executed.
Tracking your marketing metrics provides an essential insight into the progress of your campaign, and the attitudes and behaviour of your audience. Good agencies use this data to adjust and tweak their tactics to further tailor their campaigns and achieve results.
Are you looking for a trusted HubSpot partner here in Australia?
Look no further. The Inbound Marketing Company has been a certified HubSpot partner since 2009, and will implement the proven Inbound methodology to help achieve your business goals. Contact us today to find out how we can take your marketing to the next level.
Other Articles You May Find Helpful: