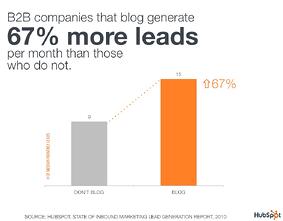 Why is blogging so important for lead generation?
The purpose of this article is to highlight to marketers the importance of blogging for lead generation and how to get started.
Here are some recent stats from 2010/2011 that I've pulled from a few different sources, they tell the story about the change in human buyer behavior and why it's important to marketers.
¾ of US Adults are online.
34,000 Google searches per second.
46% of searches are for products and searches.
70% of links that searches click on are organic (free not paid).
75% of searches never scroll past the first page of search results.
So what does this mean to marketers?
Your target market is searching for your product or service. Either directly as a brand, company, product or service. Or by searching for their problem or need and looking for solutions.
You need your website to rank on the front page of Google for the search terms your target audience use when looking for your product or service.
You MUST have conversion tactics in place to convert your target audience into a lead.
So what can you do to get on the front page of Google search for keywords important to your business?
Identify the keywords you need to be ranking for – at the bottom of this article are links to articles about keywords.
Create lead generation offers to convert your prospects into leads – at the bottom of this article are links to articles about conversion tactics.
BLOG
Why blog?
Companies that blog have 55% more website visitors.
Companies that blog have 434% more indexed pages – Google gives more weight to websites with more indexed pages.
Companies that blog have 97% more inbound links - Google gives more weight to websites with more inbound links.
Companies with more indexed pages get more leads.
B2B companies that blog generate 67% more leads than those that don't.
Blogging frequency has a direct and significant impact on lead generation – the more frequently you blog the more leads.
Global population of blog readers keeps growing.
Let's look at how to blog successfully, how to choose topics, plan ahead and write content that your audience wants to read and share with their network.
Key elements of a successful blog
First, identify the keywords you would like to rank for and then make sure they're being used in the areas that are important to Google, below are some tips. Choose one keyword per blog article and implement the following:
Use your keyword in the blog title.
Use your keywords in the content.
Hyperlink keywords to web pages, other blogs and/or landing pages.
Use your keyword in the meta description.
Keep your blog title to 70 characters.
Use a killer title, to compel people to click on and read your blog article.
Start with a 120 character purpose - what's the main point?
End with a 120 character takeaway.
Keep the purpose and takeaway to 120 characters, this makes it easy for social sharing.
Your meta description is a 150 character CTA – tell your prospects why they need to read your blog article, what value it is to them, how will it help them, what they will learn?
Use an image: research shows that blogs that have an image are more likely to get read.
Be consistent! If blogging daily isn't realistic for your business, choose the same day of the week to blog, it's better for search rank and for your readers.
Subscribe to other blogs.
Comment on other blogs.

How to choose your blog titles and plan ahead
Brainstorm blog topics and titles ahead of time, if you can you come up with 13 titles and blog once a week you will 3 months worth of blog titles already planned out - this is usually the hardest part - deciding what to write about.

The best way to come up with relevant blog titles is to write down:
The keywords you need to rank for – the keywords your prospects use.
Who are your prospects – job title, industry, company description?
What is their problem or need?
How do you help them?
What questions do they ask before converting to a customer.
Get further inspiration from:
Your emails check you outbox to view topics.
LinkedIn discussions.
Conversations at networking events.
Questions asked over the phone.
Industry research, stats.
Industry events.
Presentations.
Webinars.
Company or industry news and updates.
Your top ten bloggers, or news sources - list their latest articles with your own comments and opinions.
Below are some ideas for different themes
Anything numbered is popular; Top 10 ways to…, 5 things not to do…
Top 10 lists.
How to articles.
Link to other articles.
Case studies.
Video.
Repurpose content from; presentations, ebooks, whitepapers, webinars, seminars.

How to write content that your target audience wants to read and share with their network
Think like your prospects.
Write like an educator, teacher (not a marketer or sales person).
Provide solutions.
Tell a story.
Keep it short 400 words is a good length.
Edit, get rid of unnecessary words.
Use bullets and numbered lists.
Use bold and sub-headings.
Tie it to the monthly lead generation offer.
Sign off with a question – this encourages comments and engagement.
Use: video, presentations, images.

Tip
If you're sitting down to blog try to write 2-4 blogs at a time. While the creative juices are flowing keep writing and then break up the article into different posts or a series.

Marketing Takeaway: To generate leads from your website you need to be blogging and its not as difficult as you may think.

If you found this article helpful please share with your network by clicking on the above social media share buttons - thank you.

If you're interested in generating more leads from your website you may like to read some of my other articles:

Inbound Marketing: 10 Ways To Find the Right Keywords
3 Steps to Planning Your Inbound Marketing Conversion Tactics
10 Inbound Marketing Tips to Help You Blog Effectively
Download my FREE ebook: A practical guide to creating an effective Inbound Marketing Plan
Other Articles You May Find Helpful: