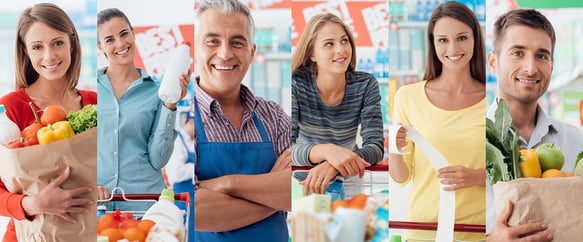 If we were to ask you: what's the greatest goal of any marketer, you would probably answer somewhere along the lines of generating leads. Right? After all, that is the whole point of marketing; to get your brand out there and generate leads so the sales team can close them into customers.
So you may be surprised to learn that converting leads into customers is one of the biggest marketing goals for 2017, according to Hubspot's State of Inbound 2017 business report.
From those surveyed, 73% of respondents said their top marketing priority for this year is to convert leads into customers. In this article, we're going to share some effective strategies to help marketers nurture leads and close more customers.
Target and divide
Adopting a one-size-fits-all approach is a big marketing no-no. Sending the same message and calls to action to everyone in the hopes that someone will respond rarely works. Good marketing requires targeting the right people with the right message. For example, just because your business targets people who are interested in healthy meal deliveries, doesn't mean they are all coming to you for the same reason. Some might want healthy meals delivered because they're short on time to cook and some might want your services because they want to lose weight. Knowing your different buyer personas is essential when converting leads into customers. If you can communicate to each lead on a more personal level, you're much more likely to connect with them and convert them into a customer.

To communicate to your audience on a more personal level you should segment them into their interests; what pages they view, ebooks they download, webinars they attend and products they purchase. Your marketing messages and offers should be relevant to each segment, rather than the same message to everyone. To gather this insight you will need a good CRM and marketing automation software, we use and recommend Hubspot. With Hubspot you can create lists based on wide variety of behaviours and demographic information. This enables us to create segmented lists with contacts that are all similar so we can email different messages to different segments to ensure what each individual receives is relevant to them.
Get their attention, not just their impression
The marketing world has a thing for impressions. Yet more impressions don't necessarily translate into more leads. And furthermore, more leads don't automatically result in more customers. Of course, impressions are important when it comes to measuring your reach and return on investment. However, impressions aren't necessarily the best way to see the effectiveness of your marketing. Your blog post may get 100,000 views, but how many people actually clicked on the offer at the end of the post? How many people clicked off the page before getting to the bottom of the blog? Yes, your blog received 100,000 views but how many leads did you acquire? If those impressions are not converting, then something's gone amiss. What you really need to be focusing on is grabbing the attention of potential leads. If you can gain insight into what grabs their attention and makes them click on the offer, rather than focusing on your impression analytics, this is a good start in gaining leads and ultimately turning them into customers.
Here are some tips from online marketing guru, Neil Patel, on grabbing the attention of the customer and truly engaging them:
Create a sense of curiosity
Use exciting words
Make sure your content is relevant to what your target audience wants and deliver on that
Qualify the lead
Knowing the difference between a marketing qualified lead (MQL) versus a sales qualified lead (SQL) is important when converting leads into customers. The last thing you want to do is to promote an offer to a lead who is still in the research phase. It's too early for them in the buying process and not relevant to where they are – this may scare them off for good.
It's important you understand the buyer's journey – what steps do people take from prospect to customer. What information are they looking for at each stage and what behaviour tells you that they are interested in learning more about your product, service or company versus ready to buy or speak to a sales person.
Don't keep leads waiting
Once you've captured a lead, don't make them wait. The level of a leads interest will drop after just one hour and if you have not reached out, they will quickly move on to a competitor. That's why it is important that you have marketing software like a marketing automation tool and CRM, set up to respond to a lead as soon as they are sales ready – this could be an automated email or alert for a sales person to call them.
Other Articles You May Find Helpful: