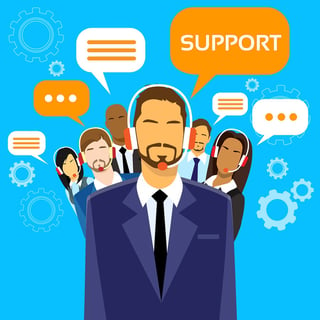 In case you missed last week's blog, we introduced the emerging concept of Inbound Sales. It's a proven methodology for developing a sales process that matches how people buy. This methodology has been built on the premise that the modern buyer is no longer reliant on salespeople to get all the information they need to make a purchase.
It may be a new concept, but it's built on a trend that has been emerging for years; that customers will do most of their own research before speaking to a sales person or even walking through a department store door. Consider your most recent car or computer purchase. Did you walk right up to a sales person and ask for a recommendation, and take the first product they offered to you? Not likely.
In today's online environment people will trawl websites, forums, peer review sites and social media looking for reviews, recommendations and information on everything from reliability to price. Research tells us that people are nearly 60% of the way through the buying process before they're ready to speak to a sales person.
The balance of power has shifted in favour of consumers. Inbound Sales recognises this shift, and empowers businesses to attract and effectively close customers in our modern and ultra-competitive environment.
Here are 5 things you need to know about the Inbound Sales movement:
1. The Way People Buy Has Changed. Inbound Sales Helps You Change With Them
A study conducted by the Behaviour and Economic Research team at NAB found that approximately 78% of B2C and 75% of B2B buyers use the internet and social media to research suppliers before making a purchase. Consumers are five times more dependent on content than five years ago and on average will engage with 11.4 pieces of content prior to making a purchase.
According to Nielsen, 92% of consumers say they trust recommendations from friends and family above all other forms of advertising. And according to a study conducted by Search Engine Land, 72% of consumers trust online reviews as much as personal recommendations.
The buying landscape has changed. Earning customer loyalty is harder than ever and competitors are just a Google listing away. In this environment there's no place for out-dated or under-handed sales tactics. Inbound Sales matches the new buying preferences of modern customers by personalising the sales process to their individual needs, challenges and goals.
2. Knowing Your Buyer's Journey Is Key To Success
The emergence of Inbound Sales means that knowing the Buyer's Journey is more important than ever before.
For the unfamiliar, the Buyer's Journey is the term given to the typical process a person goes through before making a purchase. Find out about the Buyer's Journey with this handy infographic from HubSpot.
Knowing the Buyer's Journey — particularly as it relates to your business — empowers sales people to understand your buyer's purchasing criteria. This knowledge allows them to align the sales process to how your customers buy.
"Buyers don't want to be prospected, demoed, or closed. These steps add zero value to the buyer because all the information they get in these meetings can be found without a sales rep's help," says HubSpot contributor and Inbound Sales pioneer Mark Roberge. "Inbound sales teams avoid this issue by starting with the Buyer's Journey. Before they ever pick up a phone or send an email, they make it a priority to understand their buyer's world."
3. Buyer Personas Will Be More Powerful Than Ever
Inbound - whether it be Marketing or Sales - is the philosophy of connecting with the deeper motivations of customers, and creating content and experiences they love. The most effective way to gather this information is to develop a buyer persona for your prospective customer. A buyer persona is the process of delving into the attitudes and behaviours of your buyers, knowing their pain points, the nature of their jobs and the solutions they need to work better.
It's a systematic approach to understanding your customers, their attitudes, behaviours and what motivates them to buy from you. Then based on that information you align your marketing and sales processes to match their persona.
Sales teams prepared to profile and understand their buyers in such detail stand to benefit the most in the new world of Inbound Sales.
Get up to speed with creating Buyer Personas with our introduction.
4. It's About Supporting. Not Selling.
Make the Sale. Seal the Deal. These are common phrases in the cutthroat world of sales. But as Inbound Sales continues to emerge, such sentiments will be long forgotten.
In his HubSpot article, Mark Roberge outlines a new four-step process to Inbound Sales that is more about supporting prospective customers through their Buyer's Journey, not making the sale at all costs.
"In order to develop an inbound sales process, ask yourself what your salespeople can be doing at the awareness, consideration, and decision stages to support buyers," Roberge says.
He recommends the following four-part framework for your sales process, or the Inbound Sales Methodology:
Identify

Connect

Explore

Advise

"This inbound sales process supports the buyer through their purchasing journey. As a result, salespeople and buyers feel aligned through the buying and selling process, not at odds with one another."
5. We Have Everything You Need To Get Started With Inbound Sales
TIMCo is now Inbound Sales Certified and can offer advice and information on how to implement the Inbound Sales process into your organisation. Contact us today to start your journey towards Inbound - whether it be marketing, sales or both.
Other Articles You May Find Helpful: