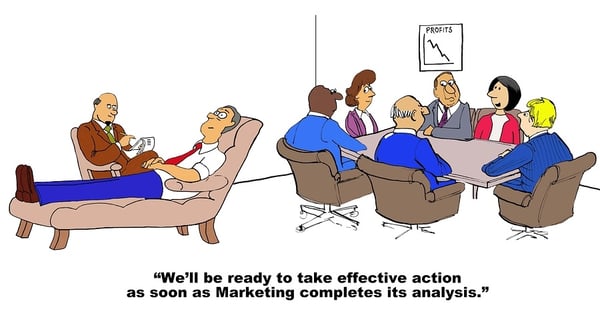 Data Driven Marketing has become something of a buzz term in the industry. It was once considered a phase, but with social listening, online surveys, consumer feedback, Google Analytics and Internet of Things generating an immense amount of information every day, data driven marketing is a concept that is here to stay.
Data has turned marketing into a numbers game. Concealed within the immense amount of information being produced online are powerful customer insights and information about buyer behaviours. Businesses prepared to analyse this data are tapping into a world of knowledge about new and existing customers that is helping them build their brands and grow sales in more targeted ways.
What is Data Driven Marketing?
Data Driven Marketing is far more than the collecting of data. Data Driven Marketing is the process of using that data to discover patterns and behaviours amongst customers that informs a tailored, seamless and relevant marketing plan.
"Arguably, the most important evolution in the history of marketing is the ability to understand what data you have, what data you can get, how to organise it and, ultimately, how to activate the data," Mark Flaharty, executive vice president of advertising at SundaySky told CIO.
The same article revealed that three out of four consumers want retailers to gather and use personal data to improve the shopping experience. Far from being a shady exercise, consumers have come to expect that companies will gather their personal data and use it to create better sales experiences.
And it seems that companies are listening. A recent survey of 1,500 marketing and communications executives around the world found that most marketers are responding to this new reality, and made significant strides in improving data efforts over the past year.
Data Driven Marketing In Action
US Research firm Forrester says that the right data can identify customer preferences and uncover unmet customer needs. They tell the story of a US clothing retailer that used behavioural and location data to learn that women, aged 13 to 24, window shopped at their stores only to purchase lower-cost alternatives elsewhere. In response, the retailer created a low-cost line of clothing specifically targeting these shoppers, turning them from window shoppers into paying customers.
Not All Data Is Created Equal
According to Teradata, between now and 2020, the sheer volume of digital information is predicted to increase to 35 trillion gigabytes – much of it coming from new sources including blogs, social media, internet search and sensor networks. That's an awful lot of information. Some of it will be powerful and insightful, and most of it will be downright rubbish. But how do you tell the difference?
The best way to make sense of the daunting world of data is to understand what you want the data to tell you. What do you need to know? For example:
Who buys from you?

What is the best source of leads?

How are people finding you?
Understanding what you want the data to tell you will help you sort through the streams of data and find the information that is important to your business.
If you need greater insight into your marketing efforts, or you're overwhelmed with analytics and not sure where to start – we can help! Contact us here.
Other Articles You May Find Helpful
---
Other Articles You May Find Helpful: