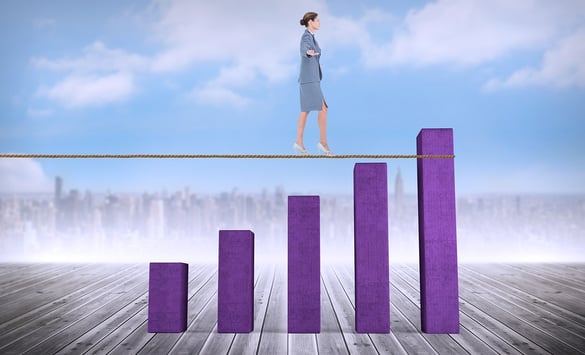 It's hard to believe, but it's March already and if you're like me budgeting for 2016-17 is already underway.
Most of us will be doing our best impressions of tightrope walkers, carefully balancing the myriad of business costs with projected sales. Whether you set your own budget, or are crunching the numbers for you company's CFO, the next financial year is your opportunity to seriously invest in Inbound Marketing.
Far from being a new trend, Inbound Marketing has emerged as the best practice in marketing. Inbound is the preferred marketing method for all companies that spend under $5M annually on marketing. In fact, data revealed by HubSpot's 2015 State of Inbound report revealed that if your company spends less than $100,000 on marketing annually, you're four times more likely to practice inbound than outbound.
If your business is yet to make the leap to Inbound, here's the data you need to dazzle the C-Suite and secure additional budget for your Inbound efforts.
Inbound Has Overtaken Outbound
Inbound Marketing can no longer be considered a new movement in marketing practice. In most industries it has become the standard, and is dominating the marketing budgets of companies of all kinds around the world. Research shows that:
When planning your upcoming budget it's important to assess exactly how much you're willing to spend on outbound. Global trends are showing that tactics such as paid advertising and direct mail are in decline, and have lost favour amongst consumers. Inbound Marketing has emerged as the better investment, resonating with consumers and more likely to deliver ROI for your business.
Inbound Offers Value For Money
As I mentioned last week, inbound leads cost 60% less than outbound leads[LJ6] . That's because Inbound places an emphasis on great content. Blogs, eBooks, landing pages, webinars and an active social media presence are among the most powerful inbound tools. They also happen to be the most cost-effective, with minimal start up costs and requiring little more than an investment of time to be successful.
Whereas advertising is only effective when you're paying for it, inbound marketing connects with customers over time, building your brand and generating leads long after you've published your content. Consider these figures from HubSpot:
92.34% of companies using inbound marketing increase their traffic.
Blogging is the number 1 method for increasing traffic to your website, with SEO in second place. Paid search ads ranked lowest.
42.2% of companies using inbound marketing increase their lead-to-sale conversion rate.
49.7% of companies using inbound marketing increase sales within 7 months.
You can't afford to delay any longer.
According to the CMO Council, more than a third of Chief Marketing Officers say that online and inbound marketing efforts will account for 75% or more of their spending within the next five years. Furthermore, 28% of marketers have reduced their advertising budget to fund more digital and inbound marketing.
It's clear that year-on-year inbound marketing is receiving a larger slice of the budgeting pie. But the figures can disguise a more complex challenge: Inbound marketing is a cultural shift requiring long term investment. Companies that are increasing their inbound budgets are typically transitioning to this marketing philosophy. The figures suggest that many are already underway and are reaping the benefits.
When it comes to your business, another financial year 'thinking about' adopting an inbound approach to marketing is a year you fall further behind. The 2016-17 budget is the year to invest in Inbound Marketing.
Before you get started remember the three magic words: Return. On. Investment.
If you're looking to increase you're marketing budget, it's worth keeping this simple truth in mind: The C-Suite loves nothing more than ROI. Figures that clearly demonstrate that their investment is delivering a positive return is the single biggest factor in securing increased budget.
HubSpot's annual State of Inbound report also found that securing increased budget has been the second most pressing challenge for marketers worldwide. Yet, of the 4,000 marketers surveyed, the report found that respondents were 20% more likely to receive a higher budget in 2015 if ROI was tracked in the first place, and twice as likely to see an increased budget if that tracked ROI was shown to be higher than in 2014.
The report also found that demonstrating positive ROI makes you nine times less likely to see a lower budget the following year than if your team failed to show a positive return.
The message is clear: If you're thinking about upping your budget or applying for extra dollars next financial year, your first priority should be devising a way to analyse your metrics and ascertain the ROI of your inbound efforts.
---
Other Articles You May Find Helpful: